10 of today's really cool network & IT research projects
Here's what top university and college researchers are cooking up for wireless, cloud, security and other tech innovations.
"Today's cloud systems are slow and unpredictable," says Chenyang Lu, who is working on the project with colleague Christopher Gill – the two previously developed real-time open-source scheduling software dubbed RT-Xen for virtualized environments. "If you send a job to a cloud computing platform, sometimes it comes back quickly, and sometimes it comes back slowly because it's sharing the machine you're submitting it to with other virtual machines."
POWERCYBER: KEEPING THE GRID GOING
A cyberattack in the Ukraine that knocked out dozens of power substations and resulted in hundreds of cities losing power has been a fresh wake-up call for those overseeing – and served by – such industrial networks. Researchers at Iowa State University are building a cybersecurity testbed to help safeguard power grids.
The PowerCyber laboratory is designed to do vulnerability analysis, risk assessment, attack-defense evaluations, and more. It's complicated, given that we're talking not just about communications networks and software, but also power lines, towers, sensors and other components.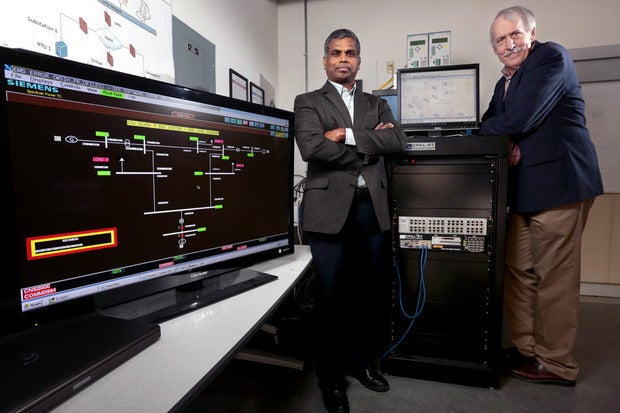 Iowa State's Manimaran Govindarasu and Doug Jacobson are leading studies of power grid cyber security, including development of the PowerCyber testbed. Photo by Christopher Gannon/Iowa State University
The NSF- and Department of Homeland Security-supported testbed, led by Iowa State's Doug Jacobson and Manimaran Govindarasu, ties in with Jacobson's time-tested ISEAGE network for cybersecurity studies. It's being used for industry training and student studies, and also for cyber defense competition taking place in February.
"We can use this testbed to run attacks and see the consequences on the power system," Govindarasu said in a statement. "If it's a blackout, how do we mitigate that? We can also prepare for these attacks and for our defenses."
BRINGING LIGHT TO MICROPROCESSORS
Engineers from UC Berkeley, MIT and the University of Colorado Boulder have joined forces to build the world's first microprocessors that marry electrons and photons, paving the way for seriously faster computing and communications. What's more, they did so in a foundry that mass produces more common computer chips, so the promise would be that such light-emitting chips could be made at commercial production rates, too.
The researchers described their breakthrough in a paper published in the journal Nature in December.
"This is a milestone. It's the first processor that can use light to communicate with the external world," said Vladimir Stojanović, an associate professor of electrical engineering and computer sciences at the University of California, Berkeley, who led the development of the chip. "No other processor has the photonic I/O in the chip."
The researchers boasted that the energy-efficient chip had bandwidth density of 300Gbps per square millimeter, a 10 to 50 times improvement over standard microprocessors. This DARPA-backed research has already spawned a couple of startups targeting more energy-efficient data centers.
Previous Page 1 2 3 4 5 Next Page