10 of today's really cool network & IT research projects
Here's what top university and college researchers are cooking up for wireless, cloud, security and other tech innovations.
ROBOTUTOR: NOTHING TO BE AFRAID OF
Where were these Carnegie Mellon University researchers when Sister Thomas Catherine was frightening me and other good little Catholic school 3rd graders back in the day?
A team of CMU researchers is taking aim at the $10 million grand prize of the $15 million Global Learning XPRIZE competition, the goal of which is to empower children to take control of their own learning via tablet computers, software and the like. The competition was announced in 2014 and entries are due by November.
The researchers aren't actually trying to displace the good sisters and other teachers from their jobs, but rather, are looking to help educate kids in parts of the world where teachers and schools are hard to find.
"At Carnegie Mellon, we take pride in solving big problems, and the lack of formal schooling is a truly immense problem in many parts of the world," said Jack Mostow, a research professor emeritus in the Robotics Institute and the leader of CMU's "RoboTutor" team, in a statement. "If we can develop educational technology to fill that gap, we can significantly improve the lives of the 250 million children who today can't read, write, or do basic math."
Among Mostow's claims to fame at CMU: His work on an automated Reading Tutor.
THE POWER OF OPEN SOURCE
Graphics processor units, which have been enabling video gaming consoles and computers to handle graphics-heavy apps for about 40 years, are the latest beneficiaries of open source. Researchers at Binghamton University say they have become the first to use an open-source GPU for research.
Nyami is a synthesizable GPU architectural model for general-purpose and graphics-specific workloads, and could pave the way for other researchers to build their own GPUs, says Binghamton University computer science assistant professor Timothy Miller.
"As a researcher, it's important to have tools for realistically evaluating new ideas that may improve performance, energy efficiency, or other challenges in processor architecture," he says. There's been a movement to test GPUs for dealing with more than just graphics, such as algorithms.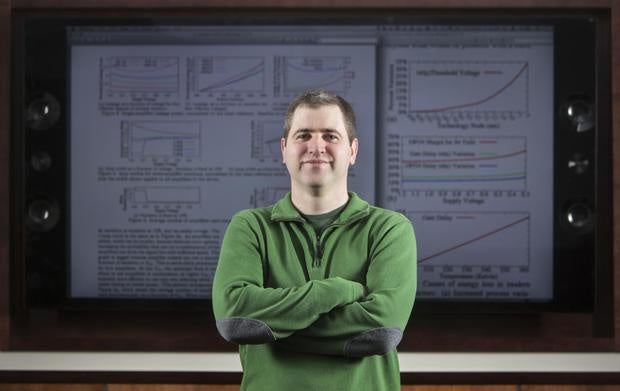 Binghamton University's Timothy Miller worked on Nyami, an open source GPU that can handle more than graphics processing. Credit: Jonathan Cohen, Binghamton University
You can dive into the details of Nyami in a paper titled "Nyami: A Synthesizable GPU Architectural Model for General-Purpose and Graphics-Specific Workloads."
EXPECTING MORE FROM THE CLOUD
While the cloud has plenty of economic and reliability benefits, performance guarantees can be a little more iffy. Computer science professors at Washington University in St. Louis have received a 3-year, $610,000 grant from the Office of Naval Research to study dynamic real-time virtualization and cloud computing, looking to make advances that could strengthen the cloud's support for Internet-of-Things applications such as automobile safety and traffic signaling systems. More specifically, they'll look to build a cloud computing platform that can manage and coordinate real-time virtual machines.
Previous Page 1 2 3 4 5 Next Page