10 of today's really cool network & IT research projects
Here's what top university and college researchers are cooking up for wireless, cloud, security and other tech innovations.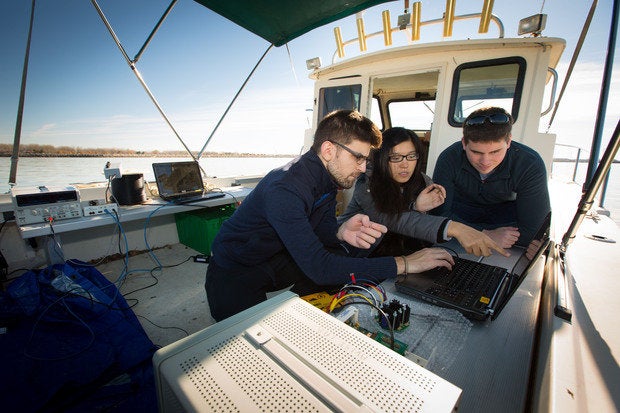 University at Buffalo students test their underwater wireless network in Lake Erie. Credit: Douglas Levere, University at Buffalo
New enterprise and consumer network technologies are coming fast and furious these days via well-heeled startups, and yes, even more established tech players. But further back in the pipeline, in the research labs of universities and colleges around the world, that's where the really cool stuff is happening.
Take a peek at some of the more intriguing projects in areas ranging from wireless to security to open source to robotics and cloud computing.
UNDERWATER WIRELESS
University at Buffalo and Northeastern University researchers are developing hardware and software to enable underwater telecommunications to catch up with over-the-air networks. This advancement could be a boon for search-and-rescue operations, tsunami detection, environmental monitoring and more.
Their National Science Foundation-supported work is outlined in a study titled "Software-Defined Underwater Acoustic Networks: Toward a High-Rate Real-Tim Reconfigurable Modem" published in late 2015 in IEEE Communications Magazine.
"The remarkable innovation and growth we've witnessed in land-based wireless communications has not yet occurred in underwater sensing networks, but we're starting to change that," says Dimitris Pados, PhD, Clifford C. Furnas Professor of Electrical Engineering in the School of Engineering and Applied Sciences at UB, a co-author of the study.
Sound waves used underwater are just no match for the radio waves used in over-the-air communications, but the researchers are putting smart software-defined radio technology to work in combination with underwater acoustic modems. A ten-fold improvement could be had, if early testing is to be believed.
APPLE WATCH NOT JUST A TOY
Penn State University Associate Professor of Educational Psychology Rayne Sperling is studying how students' self-regulated learning can benefit from wearable and accessible technologies, such as the Apple Watch, that students can use both to create and consume content.
"We will be using the Apple Watch as a new mechanism to provide academic scaffolds that target students' monitoring of their learning and academic progress as well as specific strategies students can use as they learn course content," Sperling says.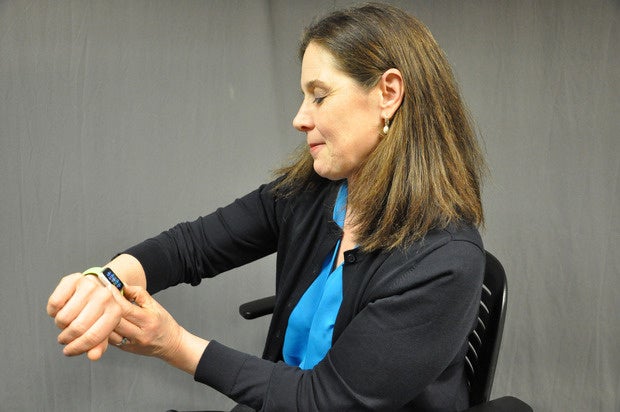 Penn State's Rayne Sperling gets hands-on with the Apple Watch. Credit: Penn State University
Sperling is working with the school's Information Technology Services organization to help guide Penn State in the best use of technology to support teachers and students. According to the Teaching and Learning with Technology unit of ITS, "Using the Apple Watch as a starting point, we are working with Rayne to develop a 'Fitbit for learning' approach to self-regulation, leveraging the Apple Watch to collect data around student learning, then providing that data back to students in a visual way that helps them reflect on what learning strategies are effective and lead to academic success."