The Turing Test review: A brisk, breezy test of your humanity
Visit the icy shores of Europa
This is most evident in the aforementioned optional chambers—seven not-so-secret rooms with more playful puzzles, ones that challenge you to use the game's limited tools in more creative ways. It's a shame The Turing Test doesn't provide more rooms in this vein, because I found myself sprinting through puzzle after puzzle trying to get to the next optional room, one that would require slightly more of the game's vaunted "lateral thinking."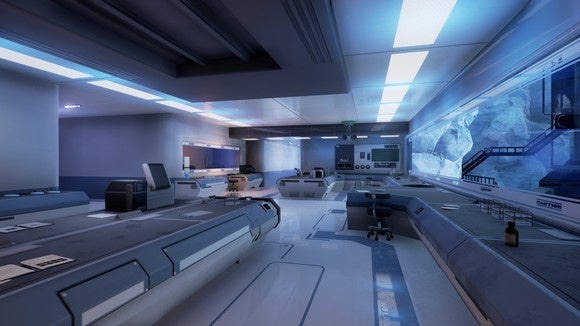 And reward me with more story. The Turing Test's plot is as breezy as its puzzles, told mostly through found documents and pace-killing audio logs hidden in the optional rooms and scattered at the end of each ten-puzzle chapter. (Please, developers, if you have to include audio logs at least make it so I don't have to stand in one place to listen to them.)
The title probably gives you a good idea of the game's themes—"Can machines think?" "Are they conscious?" "Are they conscious in the same manner as humans?" "Do they make decisions?" "Does free will exist?"
Classic themes, although The Turing Test isn't nearly as subtle or contemplative as The Talos Principle. There's quite a bit of backstory to piece together, and playing post-hoc detective in search of the crew makes for ghoulish fun, but The Turing Test doesn't say much that hasn't been said by a thousand other robot stories. And it's so damned earnest about it too.
Bottom line
I don't want to disparage The Turing Test too much. It suffers by nature of comparisons with other similar games, but perhaps unfairly. With its lightweight puzzles and plot, The Turing Test is one of those "Great-For-An-Afternoon" games, the ones that scratch a specific itch and go down easy. In this case, it's the "I need something like Portal, but I've already played Portal" itch.
Sometimes that's exactly what you need.