Tested: Shadow Warrior 2 sees huge performance boosts from Nvidia's multi-res shading
Shadow Warrior 2 is the first traditional PC game to include Nvidia's multi-resolution shading technology, and it's a game changer.
You might be willing to put up with it for the performance boost, though. While my laps clocked in at a roughly 85fps average with multi-res shading disabled, enabling Aggressive MRS boosted that all the way to the 100fps mark, with occasional dips into the high 90s. Again: That's huge.
But Conservative MRS is the sweet spot to my eye. Here's an Nvidia-supplied video of Shadow Warrior 2 running at 4K resolution with Conservative MRS enabled on a GTX 1080.
Enabling it doesn't force the same "soft edge" effect as Aggressive MRS. The screen's edges still look crisp, especially while you're in motion, and you'd have to actively seek out flaws to notice the quality change. But Conservative MRS still provides a sizeable boost to performance, raising the average frame rate during my courtyard laps to the low- to mid-90s. That's enough of a push to help modest cards hit much more acceptable frame rates, or maybe even allow you to push the game's graphics settings up a notch.
Lending credence to that thought, Nvidia's own performance benchmarks show that enabling Conservative MRS in Shadow Warrior 2 is enough to push the GTX 1060 over 60fps at 1440p resolution, and to allow the beastly GTX 1080 to flirt with 60fps at 4K. Enabling Aggressive MRS pushes the GTX 1080 fully over the hump.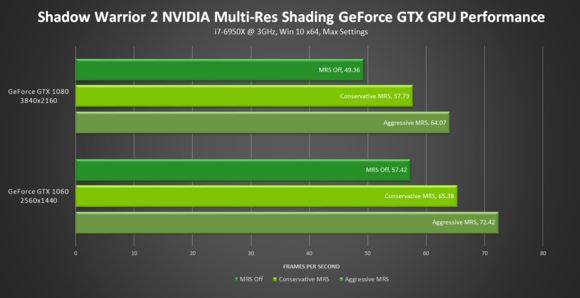 Radeon gamers are sure to shriek at the inclusion of this GeForce-proprietary GameWorks tech, but the numbers don't lie. Nvidia's multi-resolution shading can unlock meaningful performance gains even if you don't put the pedal to the metal. I hope Shadow Warrior 2's MRS inclusion is the start of a beautiful trend, rather than a one-off gift to GeForce owners.
And speaking of one-off gifts to GeForce owners, Nvidia wants to push this technology out to the masses. The company's giving away $50,000 worth of Shadow Warrior 2 game codes (or 1,250 copies) to registered GeForce Experience 3.0 users later this month, following in the footsteps of an earlier promotion that dished out $200,000 worth of Dead by Daylight codes to GFE users. Have an email address handy.
Previous Page 1 2 3