Tested: Shadow Warrior 2 sees huge performance boosts from Nvidia's multi-res shading
Shadow Warrior 2 is the first traditional PC game to include Nvidia's multi-resolution shading technology, and it's a game changer.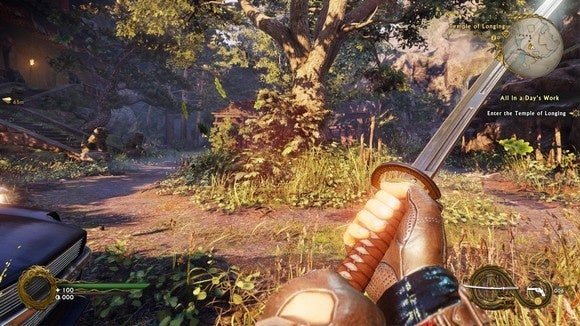 Here's a shot of the scene with Nvidia's MRS disabled. Standing still, performance fluctuated between 76 and 82 frames per second, per EVGA's PrecisionX overlay. (Clicking on any of the images in this article will blow them up to full resolution.)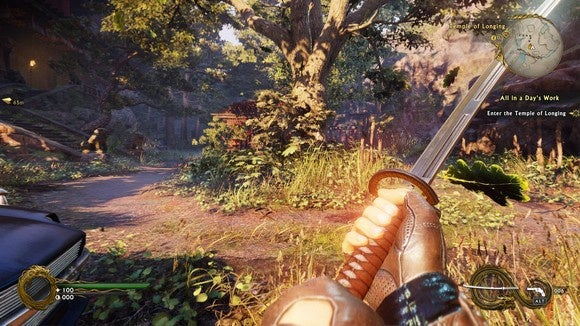 Shadow Warrior 2 allows you to tinker with the multi-res shading setting on the fly. Here's the exact same scene with MRS set to Conservative. In particular, note the slight loss in quality to the fire in the upper-left corner, and the extra jaggies visible on the foremost lion statue just underneath the torch. You'll also see more aliasing on the edges of the car in the bottom-left corner. None of this was really noticeable with the game running; I needed to actively seek out the differences in image quality.
But get this: The Conservative MRS setting raised frame rates all the way to 82fps to 88fps—a roughly 7.5 percent leap that's much more noticeable than the slight image degradation at the edges.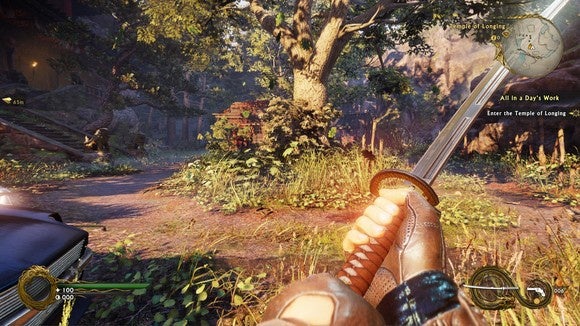 Finally, here's the same scene with MRS set to Aggressive. The visual tweaks are much more apparent here, with the aliasing jaggies on the car and lion becoming, well, jaggier, and the torch's fire degrading into a blob of pixels. Everything in the center still looks perfect, though, and performance once again skyrocketed, all the way to 89fps to 95fps.
That's a huge 14 percent average frame rate difference compared to the performance with multi-res shading disabled. To put that in proper perspective, Nvidia's GTX 960 is roughly 14 to 20 percent more potent than the lesser-powered GTX 950. Enabling Nvidia's Aggressive multi-res shading is like stepping up to a next-level graphics card, for free.
Hot damn.
Running and gunning
That's if you're willing to put up with the visual contrast, of course. Sitting still isn't a very effective way of measuring in-motion visual quality, so I spent some time running laps around Shadow Warrior 2's introductory courtyard, firing a revolver, and performing double jumps like a madman. While you couldn't pick out individual jaggies and pixel blobs like in the screenshot above, the Aggressive MRS preset gave the edges of the screen a softer quality, which sort of felt like peering into the game through a slight vignette filter. I wouldn't call it overly distracting, and I'd bet you'd become used to it after a short time, but the effect is definitely noticeable.