South Park: The Fractured But Whole preview: With great farts come great responsibility
Utilizing the "Ain't Broke, Don't Fix It" approach to a sequel
So your first step is to choose a superhero identity. These were one of the highlights of our demo, with each themed around iconic Marvel and DC figures. The Brutalist is a stand-in for the Thing, the Blaster is Cyclops (with an "Ionic Ass Cannon" attack that is described as a "death fart"), and the Speedster a.k.a. the Flash.
Those are the only three we saw in the demo, though there are currently twelve slots ("Gadgeteer" and "Cyborg" are some of the others, while Timmy plays a Professor X-type character). And of the three, only Speedster was playable.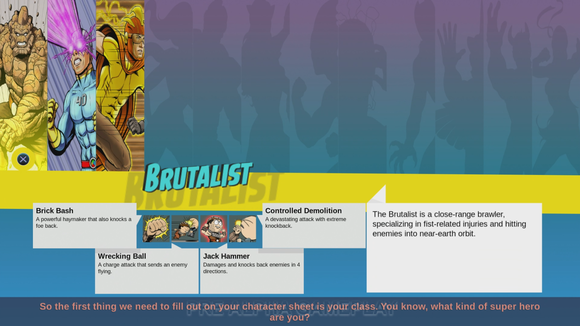 There's also an extended sequence where you learn your character's tragic backstory, the reason he or she became a superhero. But I won't spoil it. It's one of the highlights of the demo.
I would like to discuss the new combat system though, as it's another highlight. Stick of Truth took a standard JRPG approach to combat—a turn-based system wherein each character attacked one at a time, with your only choice being what move to use next. It was serviceable, but by the late game you'd typically figure out a single strategy and repeat it ad nauseam.
The Fractured But Whole adds a new wrinkle: Positioning. Combat is now played out on a grid, with attacks having a specific range and characters moving around the grid at will. Not only is this system quite a bit more tactical, it also makes your class choice feel more meaningful.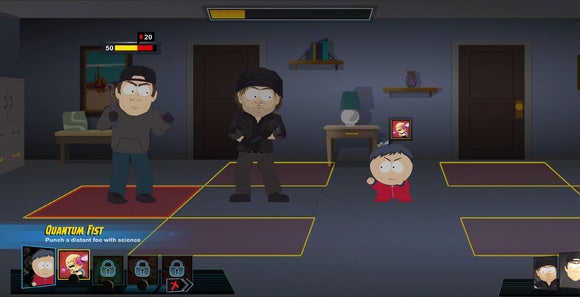 The Speedster, for instance, can move to pretty much any free spot on the grid—reflecting the fact that you're fast. Other characters are bruisers, soaking up and dishing out tons of damage, but they may only be able to move one square per turn, making it harder to get them into position.
It's a smart update, and one that made the demo's biggest battle—a play on Marvel's Civil War storyline—way more interesting than anything in Stick of Truth. Whether it stays enjoyable over the course of the entire game I'm not sure, but it's definitely a start.
Otherwise what I saw was very similar to Stick of Truth—that is, walk around the town of South Park, click on golden things, accrue stupid inventory objects (like "semen sample" and "toilet safety harness") and listen to silly one-liner quips. The only difference is that this time those quips are, no surprise, superhero-related more often than not.
Bottom line
The Fractured But Whole is basically the "Ain't Broke, Don't Fix It" approach to a sequel, and that's fine with me. The Stick of Truth may not have been as cutting and smart as the TV show at its best, but it was a perfectly good game and full of excellent fan-service moments for the diehards. That's quite an accomplishment when it comes to licensed video games, and I'll happily play another.
Look for The Fractured But Whole (and toast whoever dreamt up that title) when it releases this December.