South Park: The Fractured But Whole preview: With great farts come great responsibility
Utilizing the "Ain't Broke, Don't Fix It" approach to a sequel
About halfway through my twenty-minute demo of South Park: The Fractured But Whole, a Ubisoft developer rushed over to explain one of the game's new features. I'd just wandered into Cartman's bathroom and sat upon the toilet, and the developer desperately wanted to make sure I knew about (I think this is the correct name) Total Cheek Control.
I'm sure you can guess what happened next, but I'll explain for those who haven't quite grasped it. I was told to push the analog sticks in opposite directions, spreading my not-so-cherubic cheeks, and then I—ahem—defecated.
Yes, this is certainly a South Park game.
The not-so-new-kid
That should be good news for those who liked 2014's South Park: The Stick of Truth ($16.38 on Amazon) a game so slavish in its devotion to the source material it was often criticized for relying too much on what was essentially South Park reference humor. The game was solid (and beloved by South Park fans), but filled with too many "jokes" that were callbacks to something funny from the show, not new material—strange, if only because South Park creators Matt Stone and Trey Parker were directly involved with the script.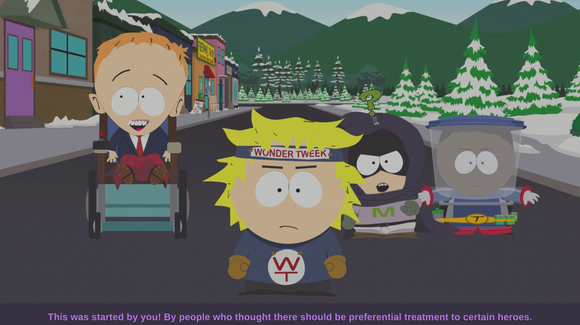 I've no idea yet whether The Fractured But Whole will avoid these pitfalls. I didn't see near enough of the game to make that sort of sweeping generalization.
The demo did, at least, have me laughing at regular intervals. Or, at least, doing that strained sort-of "exhale hard through your nose" sort of laughter. Fractured But Whole trades the pseudo-fantasy of Stick of Truth for superheroes, sword-and-board for superpowers, and the king's court for a secret lair in Cartman's basement.
It's perfect timing, what with superhero films dominating Hollywood and even their comic book counterparts experiencing a resurgence. We could use a good send-up of the entire genre.
And what little I played of Fractured But Whole delivered. We jumped around a bit, but from what I gathered Cartman and the gang are involved in a war with another group, the Freedom Pals, with both trying to win a TV series deal with Netflix. You once again play as the New Kid, an identity-less hanger-on who tries to fit in with the group.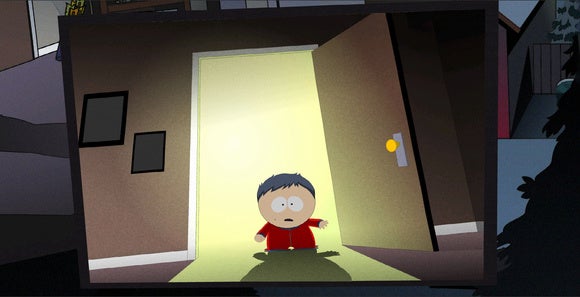 You're starting from the bottom again, here. Who cares how much power you wielded at the end of Stick of Truth? That's all gone now, and you start the game as an "ordinary citizen," still wearing the crown and cape you won at the end of the previous game.