Sandisk Extreme 900 SSD review: 10Gbps USB 3.1 performance at last!
This drive is a great taste of the kind of speeds we want. More, please!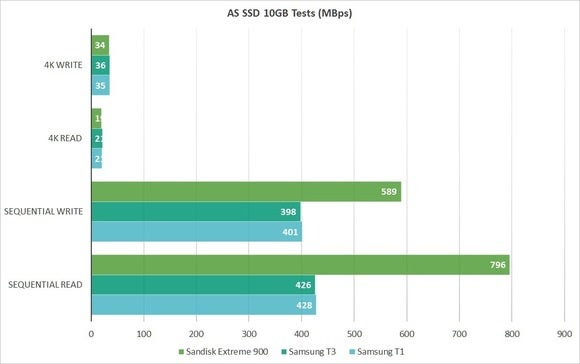 The Extreme 900 bested Samsung's T1/T3 by a considerable margin using USB 3.1 Generation 2. It was also faster on USB 3.x Gen 1..Note that we actually saw up to 780Mbps writing, but we stuck with the slower results. (Longer bars are better). Click on image to enlarge.
Conclusion
Color me impressed. Not only is SanDisk the first major player out there with a 10Gbps USB drive, but the company has implemented it extremely well. I wish MLC (Multi-Level Cell/2-bit) NAND were used, for more consistent write performance, but even the TLC numbers are impressive. The upshot is that the Sandisk Extreme 900 has permanently banished 5Gbps drives like the T1 and T3 to ho-hum-ville. Begone!
Previous Page 1 2 3