Intel's crazy-fast 3D XPoint Optane memory heads for DDR slots (but with a catch)
Surprise! Intel's 3DXPoint memory will go inside a DDR4 slot—but not everyone is happy with Intel's proprietary approach to support.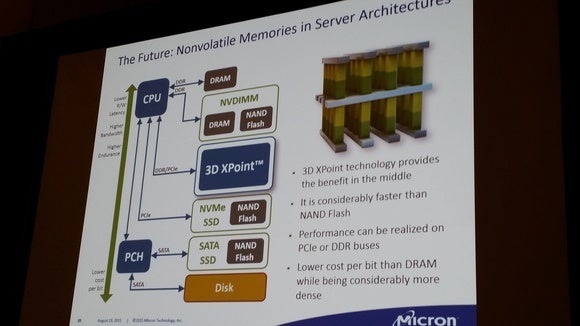 This Micron slide from IDF seems to show 3D XPoint being used quite differently than Intel's plan. Click the image to enlarge. Credit: Tirias Research
McGregor said both Micron and Intel were reluctant to answer questions with the other party in the room—an awkward dynamic considering they're partnering. Nonetheless, it's worth noting that Micron's plan for what it does with 3D XPoint differs from Intel's.
For example, check out the slide above, from Micron's presentation at IDF. It shows 3D XPoint living on the PCIe bus and actually below the industry JEDEC standard that was announced in May. That standard, called NVDIMM, sounds conceptually closer to what Intel is planning, but the two don't appear to be compatible from what we know today. JEDEC officials were unavailable to comment.
As a DRAM manufacturer, Micron officials also insist DRAM will be relevant with 3D XPoint, McGregor said. But that doesn't square with Intel's statements. The company has said from the beginning that some PC configurations that don't need the performance of DRAM can use just 3D XPoint. I covered what that world might look like here.
All these concerns, of course, will emerge further down the road. In the near term, we'll see 3D XPoint-based SSDs that plug into SATA, SATA Express and PCIe slots. It will be a while before 3D XPoint becomes main system memory, and Intel won't actually ship its 3D XPoint DIMM Xeon until 2017 at the earliest. So even if there are complaints from the industry, it won't matter any time soon. Furthermore, 3D XPoint benefits might silence critics anyhow. Intel said in one scenario, 3D XPoint systems could come stoked with a 6TB—yes, terabyte—DIMM inside.
That'll mainly appeal to people running servers and data centers, but Intel has said since the beginning that it will also target 3D XPoint at enthusiasts and gamers (it already pushes rebranded and neutered Xeons into that crowd). So as much as it seems that 3D XPoint is currently a fantasy technology, and we shouldn't worry about proprietary approaches to compatibility, it will eventually land in a machine for you.