Intel claims storage supremacy with swift 3D XPoint Optane drives, 1-petabyte 3D NAND
Intel said its 3D NAND will be able to squeeze 1TB of storage into a 1.5mm thick drive by next year.
Intel wants you to know its game-changing Optane storage tech is super-duper, insanely fast, so on Wednesday it demonstrated how the new pervasive memory technology leaves a conventional NAND SSD in the dust.
The demo, the first public one using a traditional desktop environment, took place at the company's annual developer forum in Shenzhen, China. Intel executive Rob Crooke showed identical desktop computers performing a simple file copy.
The setup tasked a PC with a traditional NAND-based SSD to write a 25GB video file to an external Thunderbolt 3 enclosure with another NAND-based SSD in it. Up against it was a computer copying the same file from its internal Optane-based SSD to a Thunderbolt 3 enclosure with another Optane-based SSD in it.
The Optane-equipped PC finished the task in about 15 seconds, while the NAND-based SSD took another 45 seconds or so. The Optane PC basically hit speeds of almost 2GBps during the process.
Optane is the brand under which Intel will sell its 3D XPoint pervasive memory, which it jointly developed with Micron.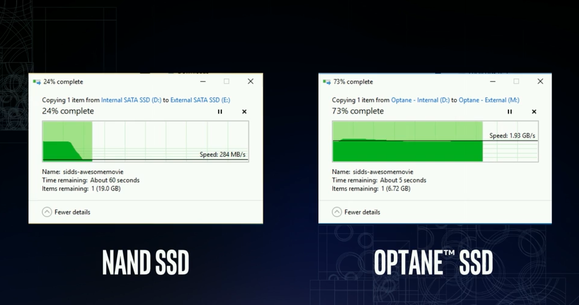 Intel put a prototype-Optane SSD against a NAND-based SSD and blew its doors off. I'm not so sure this is the showdown I wanted to see though.
The interface issue with the demo
It's good to see 3D XPoint in action just a year after being announced. The problem I have is with the demo, which was about as stacked as putting the NBA's best free-throw shooter, Steph Curry, in a contest with one of the worst (Shaquille O'Neal).
The drives Intel used to represent NAND SSD were based on the much slower SATA interface, which is limited to 600Mbps. The setup is realistic: The vast majority of people who are running SSDs in desktop systems today use SATA rather than PCIe or M.2. The fact that the drives were hooked up through the 40Gbps Thunderbolt 3.0 didn't matter.
The interface the Optane drives were running on wasn't disclosed, but I'm sure it wasn't SATA. I'm going to guess PCIe, which easily outpaces SATA by several magnitudes.
It's hard to suss out much more detail from a 20-second demo. At one point, the NAND SSD was writing at 1.5GBps, suggesting a RAID setup. Also during the test, there was a massive fall-off in write performance for the NAND SSD. This suggests it was a TLC NAND SSD, which slows down once the cache is used up.
Our own testing has shown, for example, that we can write a 20GB video file from a RAM Drive in an X99 system to an M.2 NAND SSD drive in 15 seconds. Intel's own 750 series PCIe drive will hit writes of 2GBps. I suspect using M.2 or PCIe drives for NAND SSDs would yield results closer to what Intel showed for its Optane drives.