How WD installed a circuit breaker in its SanDisk deal
It not only gets SanDisk, but NAND flash maker Toshiba though its existing partnership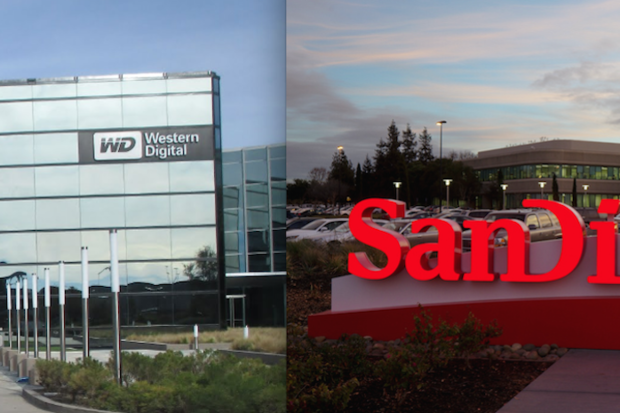 Western Digital's Irvine, Calif. headquarters (left) and SanDisk's Milipitas, Calif. headquarters (right). Credit:Creative Commons Lic.
Before Western Digital (WD) drops $19 billion to buy SanDisk, it's going to make sure certain conditions must be met.
In September, Chinese tech company Unisplendour announced plans to buy a 15% equity stake in WD for about $3.78 billion. The move gives Unispelendor the ability to nominate one of WD's board members and a foot in the door of the North American and European hard drive market.
WD stated in its SanDisk announcement that it will pay one price if it closes on the Unisplendour deal -- and another, lower, price if that transaction fails to go through. The transaction is expected to close in the third calendar quarter of 2016.
If the Unisplendour deal occurs as planned, Western Digital will pay $85.10 per share in cash and 0.0176 shares of Western Digital common stock per share of SanDisk common stock; otherwise, WD will pay $67.50 in cash and 0.2387 shares of Western Digital common stock per share of SanDisk common stock.
On top of the Unisplendour stipulation, WD said it expects to take on new debt of about $18.4 billion, including a $1 billion revolving credit that will be part of the SanDisk purchase price.
WD also said that if SanDisk's cash balance falls below certain thresholds at the time of the deal closing, "the merger agreement provides for an adjustment to the mix of cash and stock consideration."
WD did not disclose in its announcement what those further "adjustments" would be.
Jim Handy, a storage industry analyst with Objective Insights, said WD's Unispelendor stipulation is more about an exit strategy from the SanDisk deal if things go south than about ensuring it has sufficient funds to make the acquisition.
Essentially, Western Digital is betting that SanDisk shareholders will turn down the alternative cash offer, about 20% less than the primary cash offer, Handy said.
"It will spark a shareholder revolt. It indicates shareholders for SanDisk are in a very bad position," Handy said. "The company is doing surprisingly bad."
SanDisk has struggled over the past year. The flash drive maker has experienced a steep decline in earnings, a trend that the market has anticipated will continue.
Total revenue for SanDisk decreased 16.9% in the third quarter of this year compared with last year.
Handy believes the deal is a good one for Western Digital, in that it quickly establishes the company in the strong NAND flash market.


A Western Digital harddrive (left) and a NAND flash die and chipboard (right). Credit: WD, Intel, Micron