How to activate Cortana voice recognition on your Xbox One
Cortana on Xbox isn't as powerful as Amazon's Echo, but it will make your entertainment system smarter.
Now the best thing is to experiment with questions.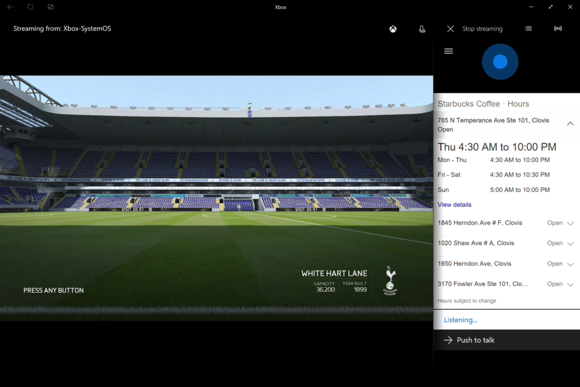 Need a cup of coffee? Cortana is here to help.
I tried several searches to get a more full picture of what Cortana was able to dig up. Microsoft's helper was surprisingly good at location-based searches, such as finding nearby coffee shops and grocery stores. It struggled with weather-related questions, on other other hand, sometimes offering a list of YouTube videos of random weather events instead of the local forecast.
Cortana performs best with questions that have direct answers.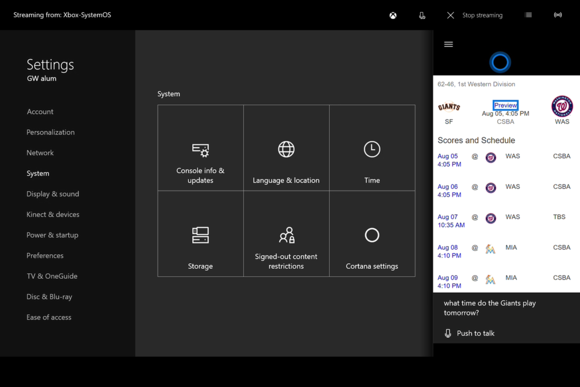 If you're a sports fan, there's no need to reach for your phone to find out how your favorite team is doing.
My best advice is to give it set aside some time and just start asking a bunch of questions. There's an unofficial list of the type of things you can ask (this includes commanding the console and gaming features), but you can expect the cloud-based Cortana to get smarter as you use it.
Like Apple's Siri, Cortana can do silly things, such as tell you a joke or sing you a song. Outside of being a cool party trick, this feature is more of a novelty than a truly useful feature.
Speaking of which, Cortana on Xbox One won't check your schedule, fetch emails, or give you commute suggestions like the Windows versions can. Ask a question like that and Cortana will tell you in no uncertain terms that those features are only for Windows PCs or phones. Bummer.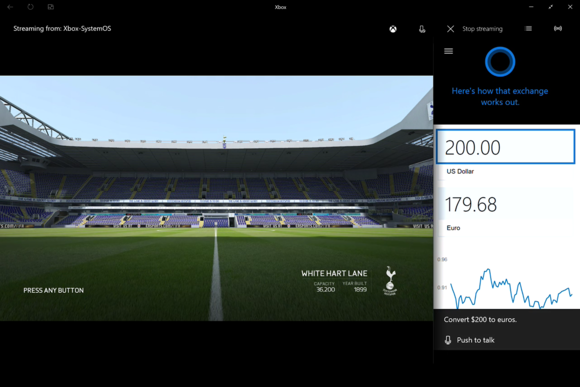 You can even get a quick snapshot of the exchange rate for currency from Cortana.
A glimpse into the future
So Cortana is a good start, offering some utility on the Xbox that makes it convenient to ask for information with needing to pull out your phone. If Microsoft can ramp up Cortana and get it right, you could have a full-blown Amazon Echo competitor in your entertainment system.
Xbox's Major Nelson says there are more Cortana features to come, so it's worth keeping a watch on how Microsoft iterates its digital assistant. The company has been willing to make bold revamps with its home entertainment system before, so expect Cortana to get some more smarts down the line.