Games yanked from Steam after developer sues users for nasty negative reviews
The Internet is sometimes an unpleasant place, and one infamous indie game developer is going to court over it.
A game developer's catalog recently disappeared from Steam after the company decided to sue 100 Steam users who were leaving negative reviews.
Digital Homicide co-founder James Romine, the game developer in question, is seeking damages of $18 million from the commenters for a variety of claims, including harassment, stalking, criminal damage, and criminal impersonation, according to a copy of the complaint posted to Scribd by Kotaku.
Steam owner Valve confirmed to Motherboard that it had removed Digital Homicide's games from the platform for "being hostile to Steam customers." Valve stopped short of mentioning the lawsuit as its reason for dumping Digital Homicide. Digital Homicide's titles include Starship: Nova Strike, Krog Wars, and Wyatt Derp.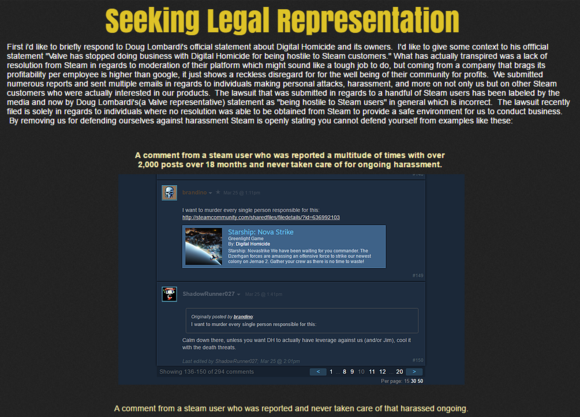 Digital Homicide's response on its website.
For its part, Digital Homicide said it was being treated unfairly. Responding to Valve's comments on its website, the company said Valve had failed to properly moderate Steam comments, the result of which meant that Steam users were "making personal attacks, harassment...on not only us but on other Steam customers who were actually interested in our products."
Digital Homicide's response includes some of the comments it found objectionable. As you might expect from anything related to the Internet, these included comments with threats of murder, entreaties to commit suicide, and personal attacks.
Digital Homicide is now seeking counsel to take legal action against Steam in addition to the 100 Steam users.
Why this matters: With all the games now off Steam it's not clear how many of the comments from the defendants included hateful or violent speech. Nevertheless, Digital Homicide does have a point that comments such as "I want to murder everyone responsible for this [game]" should not be tolerated on Steam or anywhere else online. There are no heroes in this situation.
Bad apples everywhere
True, the game developer does not have the best reputation. Many critics and users say the company produces endless amounts of shovelware that flood Greenlight—Steam's crowdsourced catalog curation system. In 2015, the company was accused of a shady tactic of using different developer names for its various games, as reported by MMO Fallout. Ostensibly, the company did this in order to avoid too many bad user reviews tainting its name.
This is not the only lawsuit Digital Homicide has going, either.
Romine is also suing game critic Jim Sterling, after filing since-overturned DMCA claims in order to have Sterling's video evaluations of Digital Homicide games taken down. In that case, Romine says Sterling has made false claims and that the critic's viewers have also left nasty and harassing comments on Digital Homicide's game forum pages, according to Romine's GoFundMe project page. Romine says the harassment has also gone offline. In one case, Romine says he received "a pile of feces in the mail."