Chinese SSD maker eyes U.S. market for 8TB drive intro
SageMicro is not the first state-backed company to fix its sights on U.S. market.
Troy Rutt, SageMicro's U.S. sales director, said the SSDs are extremely durable multi-level cell (MLC) NAND flash memory versus triple-level cell (TLC) flash that's used in many commodity SSDs today. MLC stores two bits of data per memory cell and TLC memory stores three, which requires more error correction code and tends to wear memory faster.
"If the circuitry holds up, you could do 10 writes per day for 10 or 15 years," Rutt said.
SageMicro currently uses flash from Samsung, but plans to begin purchasing its memory from Intel, Rutt said.
Because it uses no DRAM, SageMicro's SSDs are also markedly slower than other 2.5-in SSDs -- even consumer models, which can boast read/write rates exceeding 500MB/s. SageMicro's 5TB SSD using a SATA II interface has a maximum read/write rate of 200MB/s.
"Our drives will continue to be slower, but we haven't found it to be a deal killer right now," Rutt said.
Rutt said the SSDs are still vastly faster than hard disk drives and offer capacities that are attractive for enterprise applications, where the drives are being marketed.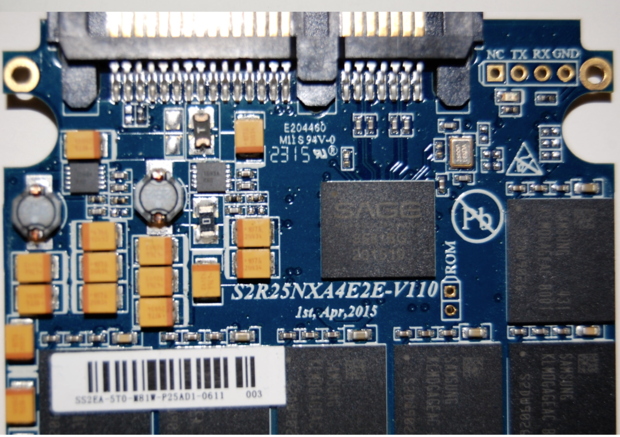 A close-up view of the PCB on SageMicro's 5TB SSD. Credit: SageMicro
Jim Handy, an analyst with Objective Analysis, said that while the drives are slower than other SSDs, there's still a market for high capacity flash drives -- even if they aren't cutting edge in performance.
"Even though most companies focus a lot of attention on IOPS [I/Os per second], a lot of SSDs that are used in embedded applications like POS terminals, industrial controllers, and even tablet PCs, don't need much speed," Handy said.
SageMicro's SSDs are also pricy. A 5TB model runs north of $5,000.
The high price of the drive reflects what Rutt said is a highly resilient product, capable of withstanding temperatures of -40 to 85 Celsius.
Knowing it wouldn't be able to compete on a level playing field against the likes of Intel, Micron and other big-name SSD makers, Sage Micro decided instead to be different, and different meant not only large capacity but also unusual features.
"We didn't want to roll up with a 1TB drive like everyone else. We're not going to be better than Intel and we're not going to be cheaper than Samsung," Rutt said. "So, we need to be different." One "different" feature SageMicron sells are SSDs with a "Smart Destruction" function. The Smart Destruction feature can be set to erase encryption keys, perform a drive erase or physically fry the memory chips with a pulse of high voltage.
The Smart Destruction mode can be triggered using a digital timer, a mobile phone instruction, or by simply pressing a button.