Chinese SSD maker eyes U.S. market for 8TB drive intro
SageMicro is not the first state-backed company to fix its sights on U.S. market.

Sage Microelectronic's 5TB SSD. Credit: SageMicro
Sage Microelectronics (SageMicro), a four-year-old company based in Hangzhou, China, plans to release an 8TB solid-state drive (SSD) next month as it attempts to break into the U.S. market.
The company, which emerged from quiet mode last year, already sells a 5TB SSD in a 2.5-in. form factor, along with SD cards and NAND flash memory controllers. The 8TB SSD simply adds another stack of eMMC flash memory crammed into a 9.5mm-high SSD.
What makes SageMicro different from most other SSD makers is that it uses eMMC, or embedded MultiMediaCard technology, which is the dense flash storage typically used in mobile devices such as smartphones.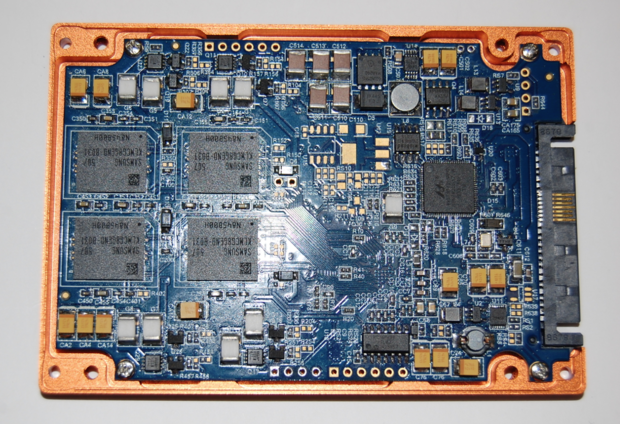 An internal view of SageMicro's 5TB SSD. Credit: SageMicro
SageMicro would presumably lead the industry in terms of 2.5-in SDD capacity if it does begin selling a 8TB SSD next month as planned.
Jerome Lou, SageMicro's founder and CEO, said his company is already testing a 10TB SSD in house and expects it will ship sometime next year.
While SanDisk now sells a 4TB SSD and hopes to release an 8TB version this year, there are no 10TB 2.5-in SSDs on the market today.
Samsung has developed a 15.36TB SSD based on a 2.5-in. form factor, but there are few details about when it may actually go into production.
The advantage SageMicro has over other NAND flash SSD companies, according to Lou, is that it uses a denser multi-chip package. Each eMMC flash chip package offers 128GB of capacity versus 32GB packages used in other SSDs.
A major tradeoff SageMicro made in order to pitch a drive with industry-leading capacity is the lack of DRAM memory on board. No DRAM means more space for NAND flash.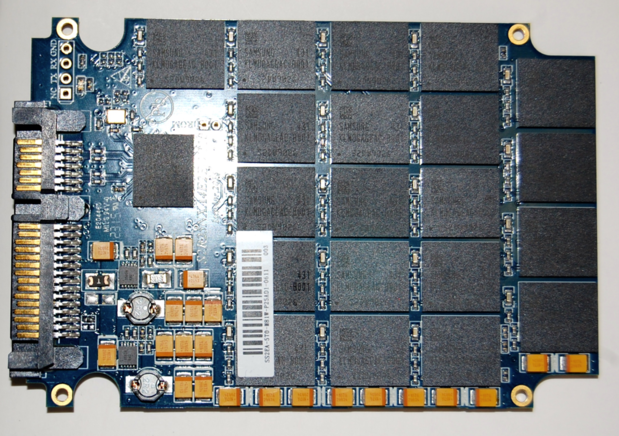 A look at the eMMC chip package on the PCB. Credit: SageMicro
DRAM in SSDs is used to cache write operations and pre-position data before it's written to the flash memory, which helps increase drive performance and endurance.
Lou, however, argued that eMMC flash has less need of DRAM because it comes natively with ECC.
"Another advantage is that everyone builds SSD controllers with wear leveling and ECC for each flash channel. So you have an ECC controller with ECC and wear leveling for all 8 or 10 channels," Lou said. " We don't care about ECC... eMMC has its own controller that takes care of ECC. That way, our controller can deal with more channels and packages of eMMC chips."