Batman: The Telltale Series review impressions: Slow burn
The Dark Knight begins.
A few caveats, as we open this one up. First, as ever: This is merely my impressions after playing the first chapter of Batman: The Telltale Series ($25 on Steam for the entire series). The season will take however many months to spool out, and we don't typically judge a game (a.k.a. assign a score) until all its pieces are released.
Second, and maybe more important, is the fact that a lot of Steam users are reporting bugs in this game. I myself ran into two.
There's no support for Xbox One controllers. Xbox 360 controllers work fine, and indeed that's what I used since I think mouse/keyboard is usually awkward for these games. Still, no Xbox One support? What?
There's a bug you can encounter early in the episode where you click on the "Codex" in the Batcave and then the game becomes unplayable due to a frozen UI element. The only way to fix it is to reset to the checkpoint and then not click on the Codex.
But these are minor issues compared to some that people are experiencing. I've seen reports of the game running at 10 frames per second, reports of freezing and crashing, desynced audio, and people not being able to set the correct resolution. Problems abound, particularly on laptops where it looks like the game doesn't select dedicated graphics cards by default and instead tries to run on integrated. I didn't have any of these more serious issues on my desktop, but be warned.
As of writing, the top Steam review is "I run better than this game and I'm fat."
Enough caveats
Okay, I've acknowledged the game is semi-broken at launch (or completely broken for some people) and that it's only the first episode. That being said, we're not assigning a score anyway so it shouldn't matter too much. These aren't our final thoughts, and we'll revisit the game later.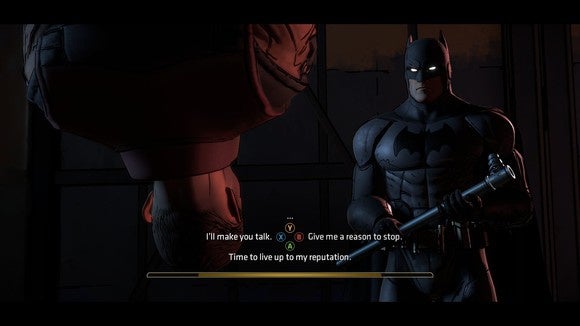 Chapter One's decent, bordering on good. Batman: The Telltale Series is actually two stories—that of Bruce Wayne and his alter ego, Batman. And ironically, it's the parts where you're not Batman that prove most interesting.
I had an inkling of this during our E3 preview, but spending a full 90 minutes with Bruce and the Bat solidified it. By and large, Bruce's sections are excellent while Batman's are tedious.
This shouldn't be surprising to anyone who's played at least one of Telltale's games. Their strength is in dialogue, not action. And you know who does a lot of talking? Bruce Wayne. The most Batman can string together is a bunch of nonsense about punching dudes in the face or maybe a cliché one-liner about good standing strong against evil.