Acer Predator 17X review: This gaming laptop packs attitude and speed
The Predator 17X gives you desktop gaming performance without a noise penalty.
When overclocked though, the Predator 17X gets a serious boost. It's only slower than the even-larger Origin EON 17-SLX with its overclocked desktop CPU and GPU.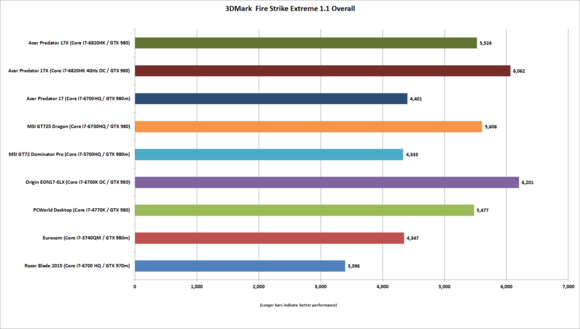 The Predator 17X stacks up nicely against the crowd on stock. When overclocked, it's a beast.
Tomb Raider
Moving on to an actual game, we can see the Predator 17X comes in just a little faster than the MSI GT72S Dragon with its GTX 980. And when overclocked to 4GHz, the Predator 17X gives even the Origin EON17-SLX a good run by matching its score.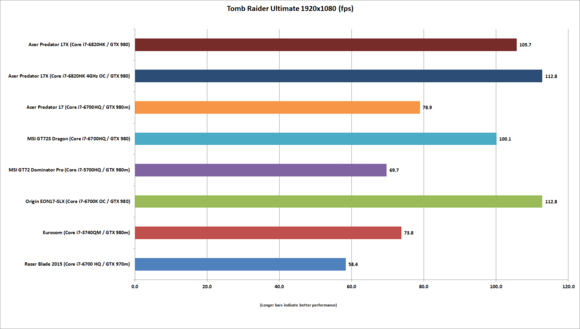 The Predator 17X hangs tough in Tomb Raider.
Middle-earth: Shadows of Mordor
To see how the 17X handles a more modern game, I ran Middle-earth: Shadows of Mordor at 1920x1080 set to Ultra and with the 4K texture pack installed. The Predator 17X is just a tad behind MSI's comparable GT72S Dragon at stock speeds, which was unexpected. Even overclocked, it's basically dead even with the Dragon. I'd dig in further, but I unfortunately no longer have the MSI unit here.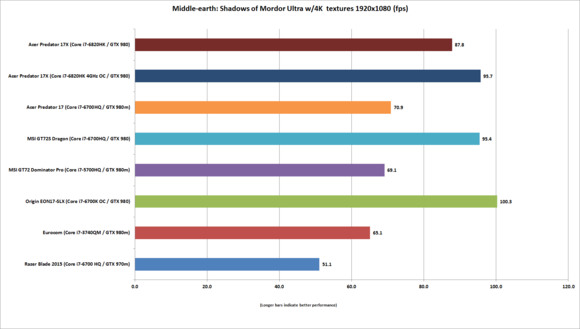 The Predator 17X is slightly slower than the GT72S Dragon in Middle-earth and just matches it even when overclocked.
Handbrake
Our last test involves encoding a 30GB MKV file to a smaller MP4 using Handbrake 0.9.9's Android Tablet preset. The test is heavily multithreaded, and can torture weaker machines.
The 17X's performance falls in line with what I'd expect for this series of CPUs. The Core i7-6820HK is maybe 100MHz faster than the Core i7-6700HQ, which isn't enough to matter much in this particular test. Overclocking the 17X to 4GHz does amp up encoding performance, though. As expected, that beefy Origin EON17-SLX with its desktop chip buzzing along at 4.5GHz runs ahead of the crowd.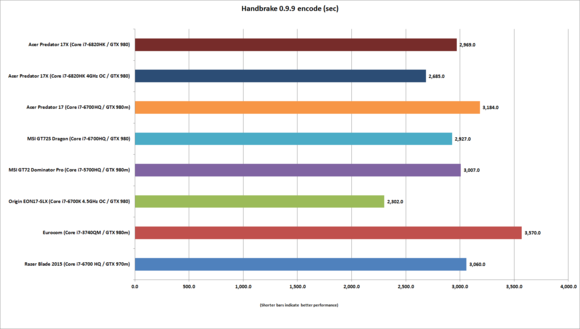 The Predator 17X falls right where you expect it to in this CPU-intensive test.
Conclusion
Overall, I'm pretty pleased with the Predator 17X. It hangs right with the competition in performance and its easy-peasy 4GHz overclock ramps up performance nicely. Its fan acoustics are downright impressive, too. At stock speeds, this laptop doesn't get annoyingly loud, and only with the CPU and GPU overclocked do the fans become noticeable. I can't say the same for the Predator 17, which was loud under most loads.
The 17X is also competitive in terms of value. Acer's suggested price is $2,800, but you can find the configuration I reviewed for $2,699 on Amazon. That's actually a little less than comparable laptops.
Previous Page 1 2 3 4 5 Next Page