Acer Predator 17X review: This gaming laptop packs attitude and speed
The Predator 17X gives you desktop gaming performance without a noise penalty.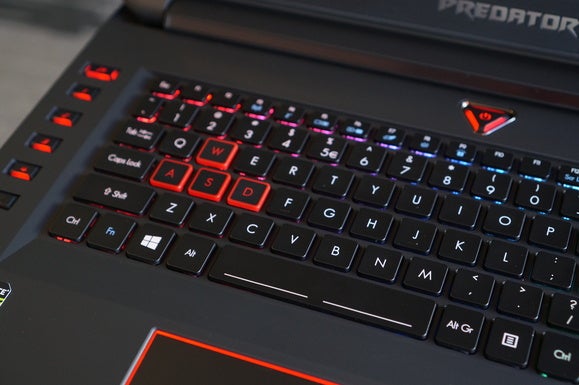 The Predator 17X's keyboard outlines the WASD keys in a garish red.
The trackpad is suitably large, and had no issues during use. Overall, it felt firm, but with no click, and it has a slight texture. I like the handy "off" switch just to the right of it—this lets you switch off the trackpad when using a mouse, so that you don't ruin your gaming session with an errant touch.
Too close for missiles, switching to guns.
A look inside
When you flip both the Predator 17 and the Predator 17X over, you can see the subwoofers in red and the large feet that lift up the laptop and clear the air intakes. However, the Predator 17X's door is quite a bit smaller, so you don't get as much access to hardware.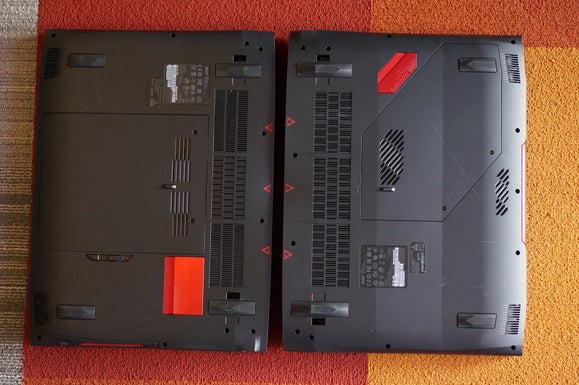 Gordon Mah Ung
The access port for the Predator 17X (right) is smaller than that of the Predator 17 (left).
Popping open the door lets you get at the slots for additional RAM, the SSDs, and the hard drive. If you're wondering where the existing RAM is, well, that's a good question. It's probably under the keyboard, or maybe buried somewhere else—but in either case, good luck getting to it easily.
You can't access the GPU or CPU, but that's fine, since messing with those would void your warranty. For most people, this amount of access is safer.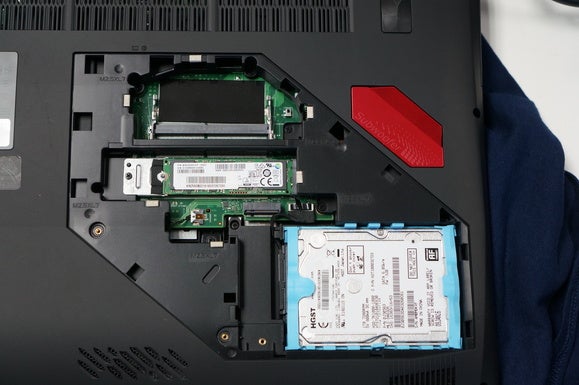 If you open the bottom panel, you can drop in more RAM and gain access to M.2 SATA SSDs and the hard drive.
Performance
None of these details matter without solid performance to make it all worthwhile, so I decided to see how the Predator 17X stacks up against a crowd of truly beefy gaming laptops. For reference, I also threw in the far-smaller Razer Blade 2016, so you can see what the GeForce GTX 970M gives you.
3DMark Fire Strike Extreme
First up is 3DMark Fire Strike Extreme. It's a synthetic graphics test, but still a very viable tool for measuring overall gaming prowess. I ran the Predator 17X at its stock speed and using Acer's preset profile for overclocking, which (as I mentioned earlier) overclocks all of the CPU's cores to 4GHz and also boosts the GTX 980 by another 135MHz.
At stock speeds, you can see the 17X keeps parity with comparable stock GTX 980 laptops—and yes, it's the same speed as a desktop GeForce GTX 980 card. You can also see that it outpaces the GeForce GTX 980M laptops, too.
Previous Page 1 2 3 4 5 Next Page