Acer Predator 17X review: This gaming laptop packs attitude and speed
The Predator 17X gives you desktop gaming performance without a noise penalty.
Elsewhere in the Predator 17X, you'll find two Samsung M.2 SSDs in RAID 0, a 1TB HGST 2.5-inch hard drive, and G-Sync support for the 1920x1080 17.3-inch IPS screen. And like many other gaming laptop companies, Acer goes overboard on system RAM, stuffing 32GB of DDR4/2133 into the 17X when 16GB would be fine for most people.
The M.2 drives are SATA rather than PCIe, which is a little bit of a bummer. Crystal Disk Mark 5.02 put the sequential, high-queue depth rate at 1GBps reads and about 600MBps writes. Not bad, but a single PCIe drive could do the same.
The IPS screen features a light anti-glare finish. I measured the max brightness of the screen at just over 300 nits, which is pretty standard for a laptop. If 1080p isn't enough pixels for you, Acer also offers the option of a G-Sync 4K panel.
The audio subsystem features two 2-watt speakers and a subwoofer. They get decently loud with fair midrange, but they tend to rattle when cranked up to maximum. Don't worry: They're still suitably loud to annoy your roommates.
Wireless is left to a Killer wireless card sporting Bluetooth 4.1 and 802.11ac with a 2x2 MIMO antenna.
The battery subsystem is a massive 90 watt-hour tank...which gives you maybe an hour when playing a game. (You'll want to keep the massive 330W power brick handy.) You can expect better battery life when watching a movie, but the truth is, heavy-duty gaming laptops rarely leave the grid.
For ports, the left side has a pair of USB 3.0 Type A ports, 1/8-inch analog in, 1/8-inch analog out, and an SD card reader.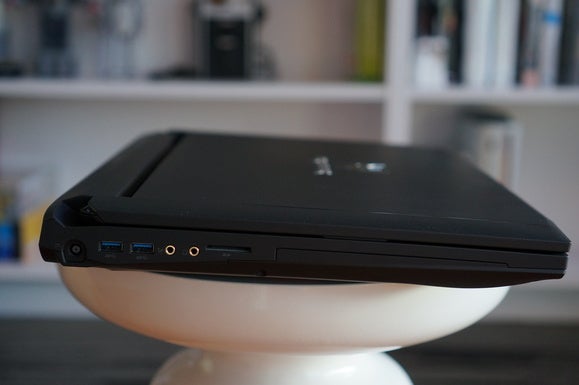 The left side of the Predator 17X gives you two USB 3.0 Type A ports, two analog audio ports, and an SD Card reader.
The other side of the Predator 17X features two more USB 3.0 Type A ports, full-sized DisplayPort and HDMI, gigabit ethernet, a Kensington lock port, and a USB Type C port that supports Thunderbolt 3.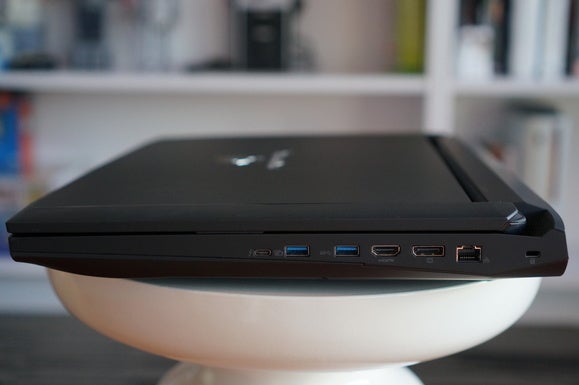 The right side gives you a gigabit ethernet jack, full-sized DisplayPort and HDMI, two USB 3.0 Type A ports, and a Thunderbolt 3 port.
The keyboard is pretty typical for a gaming laptop: It's full-sized with a standard layout. The keys felt solid with no give, and are backlit. You can change the color of the backlighting, but it's zone lighting rather than adjustable per-key. As a result, the keyboard just isn't as pretty as that of the Razer Blade 2016, which is simply lovely with its individually tweakable colors.
Previous Page 1 2 3 4 5 Next Page