Acer Predator 17X review: This gaming laptop packs attitude and speed
The Predator 17X gives you desktop gaming performance without a noise penalty.
You know Acer's new Predator 17X is a big, bold gaming gaming laptop once you hit the power button.
Rather than emitting a boring old beep, the Predator 17X gets in your grill with an alien-sounding shriek while the laptop's lighting system puts on a show during boot. (Yes, you can turn it off in the BIOS.)
This laptop is the big brother to the Predator 17 that we reviewed in June, but despite the similar looks, it shouldn't be confused with its sibling. While the Predator 17 rocked a standard Nvidia GeForce GTX 980M GPU, the Predator 17X packs the laptop version of the GeForce GTX 980 part. It basically offers 1:1 performance with its desktop counterpart—the, uhh, desktop GeForce GTX 980.
The sound and the fury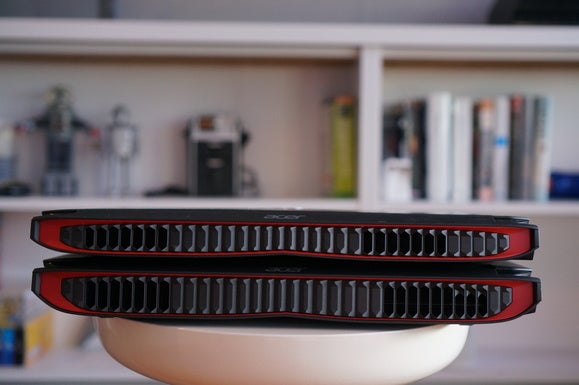 The Predator 17 (top) and the Predator 17X (bottom) share similar lineage, but the 17X is slightly thicker and much quieter.
One problem we had with the smaller Predator 17 was incessant fan whine, even under what we considered light loads. (Acer even released an update to address this fan noise issue.) Despite the more powerful GPU, we found the Predator 17X to be surprisingly quiet. That doesn't mean silent, but the fan noise is very acceptable, even while gaming or running a FurMark stress test for an extended period of time.
In fact, we played hours and hours of VR games using the Predator 17X, and whenever it wasn't my turn, I hardly noticed the laptop was there. I barely noticed any noise when the 17X got stuffed into a backpack for a DIY VR backpack setup, either, so kudos to Acer.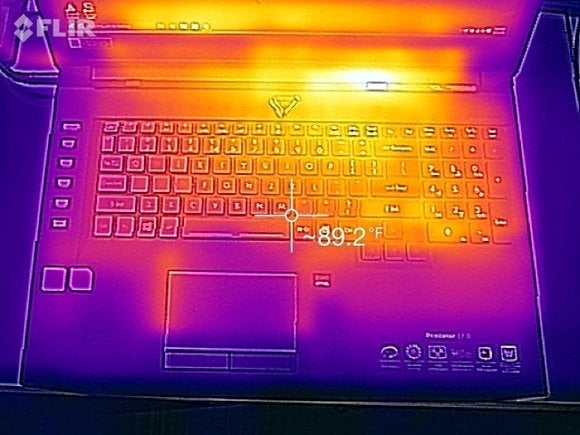 Here's the heat dispersion on the Acer Predator 17X's keyboard after running an hour-long graphics stress test.
Paired with the GTX 980 is a quad-core Core i7-6820HK chip. That's an unlocked 6th-gen Skylake CPU, with a stock clock of 2.7GHz and a Turbo Boost of 3.6GHz.
Out of the box, the i7-6820HK is set to stock, but a preset profile lets you overclock the CPU to 4GHz and bump the GPU by 135MHz. I'll cover that more in the performance section below, but I will say for now that I had no stability issues or screen artifacts running on turbo. The machine did get louder, however.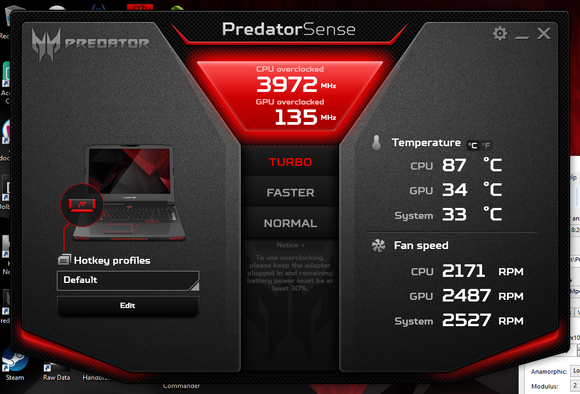 The Acer Predator 17X includes a preset profile that bumps the CPU to 4GHz on all cores and overclocks the GPU by 135MHz.
Other amenities