Yes, Windows 10 subscriptions are coming, at least for enterprise
This reveals one way Microsoft plans to monetize Windows, but the company is mum about a consumer version.
For over a year, Windows 10 customers have wondered whether Microsoft will offer Windows 10 as a service. On Tuesday, Microsoft confirmed that it would—though just for enterprises at the moment.
Beginning this fall, Microsoft will offer Windows 10 Enterprise E3, a special enterprise tier of Windows 10 that will cost $7 per user per month. Yusuf Mehdi, the corporate vice president of the Windows and Devices Group at Microsoft, said cloud providers would now be able to offer three premier Microsoft services on a subscription basis: Microsoft's Azure, Office 365, and now Windows 10.
"For the price of a cup of coffee and a donut per day, you can get enterprise-class security on a per-user subscription basis," Mehdi said onstage at Microsoft's Worldwide Partner Conference in Toronto, Canada. "If you're a cloud provider, this is now phenomenal."
Microsoft also struck a second deal with IBM to offer its Surface tablets as a service, essentially leasing them to customers on a per-month basis. Microsoft did not say which devices would be offered via the service, however, nor how much they would cost.
Why this matters: For almost as long as Microsoft has offered Windows 10 as a free upgrade, consumers have wondered two things: What would Microsoft charge for a full license to Windows 10, and what does the phrase "Windows as a service" actually mean? We now know: subscriptions. But we still don't know how (or if) this model will apply to consumers.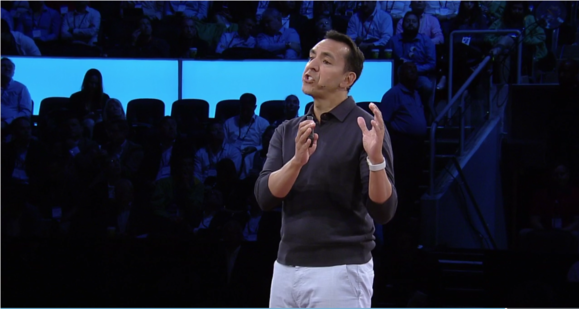 Yusuf Mehdi, corporate vice president of the Windows and Devices Group, on stage at Microsoft's Worldwide Partner Conference.
Windows as a (for now, optional) service
According to a Microsoft spokeswoman, the subscription deal is not in any way related to Microsoft's consumer offering. It's worth highlighting, though, that a business of one employee can take advantage of it, however.
"Windows 10 Enterprise E3 for CSP is for business customers of any size (including one person) to get enterprise features and functionality on a per monthly/per seat cost," a Microsoft spokeswoman said via email. "This new subscription model is not associated with our current upgrade offering or applicable to the Windows 10 consumer edition."
Right now, Windows 10 is still a free upgrade for Windows 7 and Windows 8.1 users through July 29. After that, Microsoft will charge $119 for Windows 10 Home, $199 for Windows 10 Professional, and $99 for a Windows 10 Pro Pack to jump from a licensed copy of Windows 10 Home to the Professional version. A "one person" business who bought the subscription would receive about 28 months of Windows 10 before paying the equivalent price of Windows 10 Professional.