With Android apps coming, Google preps Chrome OS storage manager
The current methods for managing local storage on a Chromebook are unpleasant ; Google is fixing that
When Google first rolled out Chromebooks, managing local storage was not a top priority. Even though early Chromebooks typically came with 16GB of onboard storage, the whole point of Google's laptops was that everything existed online. But Chromebooks today have all sorts of offline functionality, and soon newer Chromebooks will be running Android apps from Google Play.
To make it easier to see what's going on with your local storage, Google is working on a new storage manager for Chromebooks, as Chrome evangelist François Beaufort recently announced.
The storage manager is in early development and available only in the latest developer version of Chrome OS. If that's the build of the browser-based operating system you're running, you can enable the storage-manager flag using chrome://flags/#enable-storage-manager.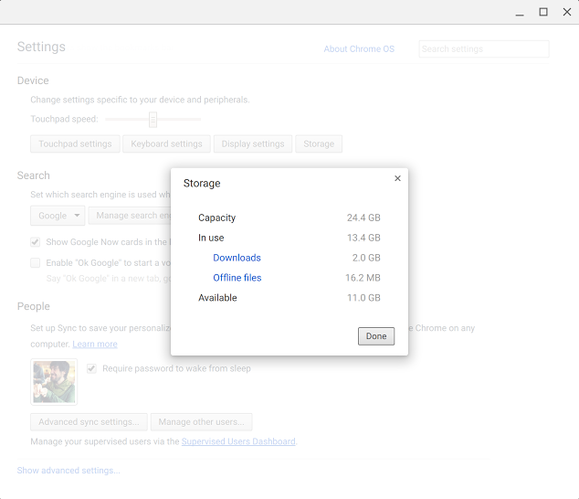 Now restart Chrome and go to chrome://settings. You should see the Storage button. Click that and a window pops up with more detailed information about your local storage.
Storage information includes overall device capacity, how much storage is in use, how much space previous downloads are taking up, storage space occupied by offline files, and available space.
Once the Play Store rolls out to all users, it's not clear if the storage space taken up by Android apps and their content will be included in these categories or if they'll be called out on their own.
This story, "With Android apps coming, Google preps Chrome OS storage manager" was originally published by PCWorld.