Windows 10's usage share lead over Windows 7 evaporates
Even a free upgrade offer can't sustain Windows 10's early head start over Windows 7 in each operating system's first 123 days.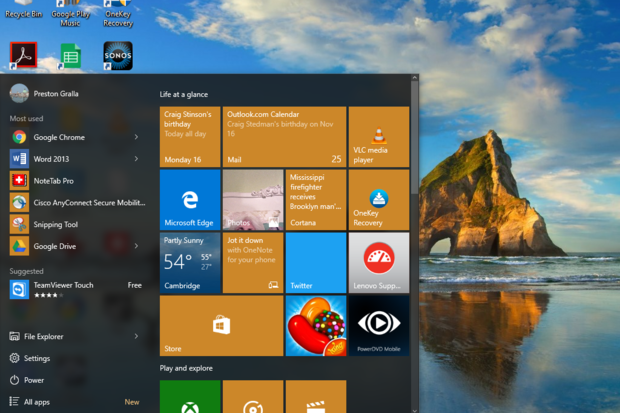 You can now make the Windows Start Menu four tiles wide.
Windows 10's uptake pace has lost its lead over the adoption rate of Windows 7 six years ago, even though the former has been offered free of charge to hundreds of millions of customers, according to data from a Web analytics firm.
As of Nov. 28, Windows 10's usage share -- a proxy for online activity because it's based on website page views tracked by Irish measurement vendor StatCounter -- had shrunk to the levels posted by Windows 7 at the same post-launch point in its lifecycle. Computerworld calculated usage share on a daily basis using a rolling seven-day average to smooth fluctuations, particularly over the weekend, when consumers use their own systems rather than those forced on them at work, where older Windows editions are often still mandated.
Windows 10's raw usage share was below Windows 7's for four out of the last seven comparable days in their post-launch point.

Windows 10's edge over Windows 7 in the uptake race has vanished, primarily because of the latter's organic growth as consumers purchased large numbers of new PCs in late 2009 and early 2010. This chart shows how much Windows 10's usage share led Windows 7's at the same points in their post-launch timelines. Click on image to enlarge. Data: StatCounter
The numbers suggest that the Windows 10 free upgrade offer's impact has been minimal when compared to the organic growth of Windows 7 in its first 123 days, a span spread over late 2009 and early 2010. It also illustrates the problem Microsoft has with an operating system wedded primarily to personal computers during a time when PCs sales are sluggish, with consumers -- always the earliest adopters of a new operating system -- especially reluctant to replace an aged system; smartphones and even tablets are now more likely to open their checkbooks or get them to slap down a credit card.
The comparison between Windows 7 and Windows 10 is skewed, however, by the release dates of each. The former debuted in late October 2009, and saw its largest usage share increases during the run-up to, and the weeks after, that year's holiday season, when millions bought new PCs equipped with the OS. Approximately 315 million PCs shipped in 2009, on the way to a peak of 374 million in 2011.
In contrast, Windows 10's largest usage share gains came during the first month after launch, when early adopters took advantage of Microsoft's free upgrade offer. Since then, growth has noticeably slowed.