Windows 10's privacy settings will be simpler but more limited with Creators' Update
It's not quite the clear-cut win for consumers that Microsoft is portraying, but at least it's transparent with its decision.
Privacy changes in the Creators' Update
In a couple of months, Microsoft plans to roll out the Creator's Update, which it's slowly rolling out to Windows Insiders via a series of new builds, including a massive one this week. Every time you install Windows—or a major update like the Anniversary Update or the CU—Microsoft typically asks you to review your privacy settings. In each case, you have the option to allow Microsoft to manage them—known as Express Settings—or to customize them yourself.
With the CU, it appears, Express Settings will be replaced by a series of toggle switches (enabled by default) that will still give you the option to customize them. Each switch—governing location, for example—will briefly explain what sort of data it collects.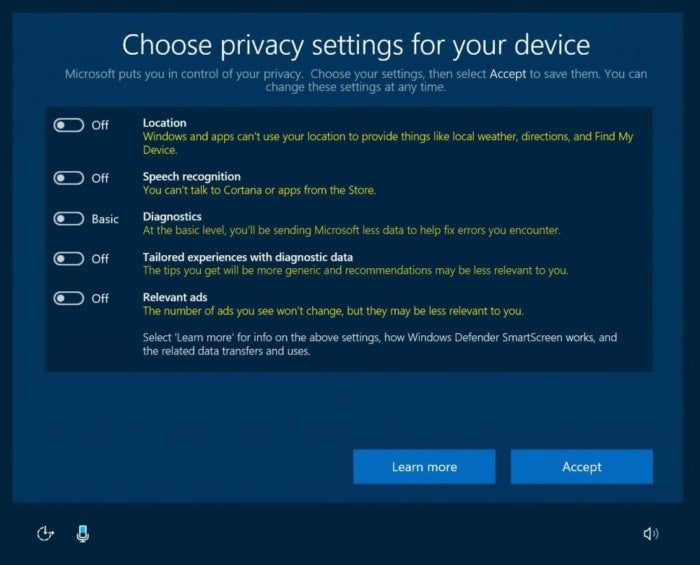 Microsoft
If you opt out of sending data, Microsoft explains why (in its view) that it's a bad idea.
If you toggle off a privacy component, blocking the data from being sent to Microsoft, the toggle will explain the consequence of that action. Microsoft obviously wants you to leave that switch toggled on, but at least it will provide information both for and against your decision. Your privacy decision, though, is flexible. You can currently go to Settings > Privacy > Location to toggle on and off your device's location tracking. (The new online privacy dashboard also adds another option.)
But Microsoft's revamped privacy options actually strip away a choice in one key aspect of Windows 10's day-to-day operations. Under Settings > Privacy > Diagnostics and Feedback, you have three options to send Microsoft details of how you use your PC: Full (the recommended, default setting), Enhanced, and Basic. Microsoft explains what each setting does, but here's the bottom line: The middle "Enhanced" setting is going away with the Creators' Update, forcing you to choose whether to send a minimal amount of data to Microsoft, or virtually everything.
Microsoft has also stripped out some data from its Basic diagnostics tier, including application usage data. A Microsoft spokeswoman called all the data it collects "vitally important to the provision of Windows," but decided to shift some of its data collection to the "Full" tier.
"One of the most significant things we removed from Basic is application usage data," the Microsoft representative said in a statement. "How applications are performing and interact, and how that affects things like battery life and system performance, is still extremely important for us to understand in order to provide a quality operating system. Application usage data and other items we removed from Basic are now being collected at the Full level."