Windows 10 quick tips: How to protect your privacy
Worried about possible privacy problems in Windows 10? Here are some quick ways to protect your data.
For instance, you can delete all the information about your interests by going to the Interests section and clicking Clear. If you want to delete only information about some of your interests, first click "Interest manager" in the Interests section. In the page that appears, click the Edit button next to a type of interest (such as News or Sports). You'll then be able to delete specific interests (such as about your hometown baseball team) or add any that you do want Cortana to track.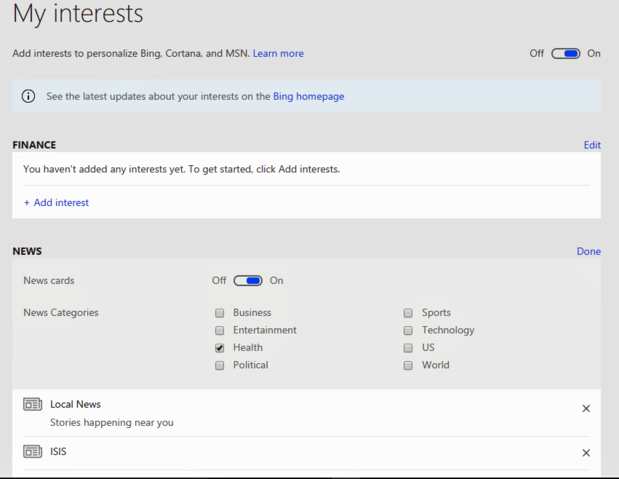 You can delete information about specific interests -- or add new interests that you want Cortana to search for.
If you want to leave Cortana on but manage what information it gathers about you, you can do that as well -- to a certain extent. Click in the Cortana search box on the lower left of the screen, then from the menu that appears click the notebook icon and then Settings. You can now turn off information gathering in several areas, such as the searches you do via Cortana on your PC and the Web, or the flight information from your emails.
Does it make sense to turn off Wi-Fi Sense?
One of Windows 10's most misunderstood features is Wi-Fi Sense. It's designed to let people easily share Wi-Fi connections, but some people believe it will allow friends of friends to log onto your network, and possibly do nefarious deeds.
That's not really the case. What it does do is let you share your network's bandwidth with specific people, while making sure they can't run rampant through your entire network. The feature can also automatically connect you to Wi-Fi networks that your friends share with you. For more details about how it works, you can check out this FAQ from Microsoft.
If you're still worried about Wi-Fi Sense, you can turn it off. Launch the Settings app and go to Network & Internet > Wi-Fi > Manage Wi-Fi Settings. Here you'll find all the settings that control whether and how Wi-Fi Sense should be used.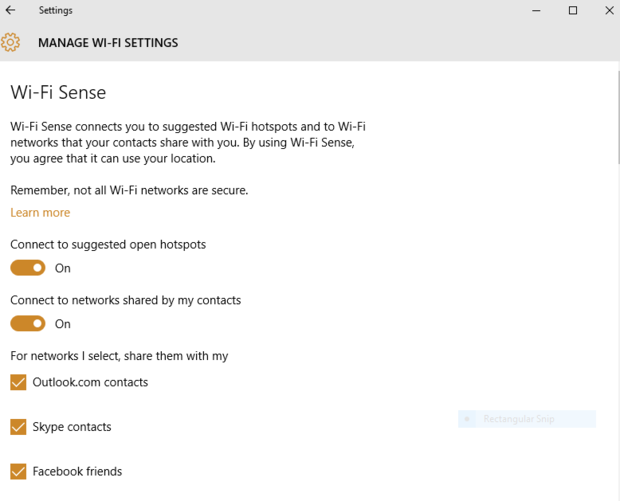 Wi-Fi Sense is not as intrusive as some have said, but if you don't want to use it, you can turn it off.
To stop connecting to networks shared with you by friends, turn the sliders from On to Off for "Connect to suggested open hotspots" and "Connect to networks shared by my contacts." To stop sharing the Wi-Fi networks you log into, go to the section titled "For networks I select, share them with my" and then uncheck Outlook.com contacts, Skype contacts and Facebook friends.
Previous Page 1 2 3 4 Next Page