Windows 10 quick tips: 5 ways to speed up your PC
Try these methods to make your machine zippier and less prone to performance problems.
Finally, and most helpfully, you can select "Search online" after you right-click. Bing will then launch with links to sites with information about the program or service.
If you're really nervous about one of the listed applications, you can go to a site run by Reason Software called Should I Block It? and search for the file name. You'll usually find very solid information about the program or service.
Now that you've selected all the programs that you want to disable at startup, the next time you restart your computer, the system will be a lot less concerned with unnecessary program.
2. Disable shadows, animations and visual effects
Windows 10 has some nice eye candy -- shadows, animations and visual effects. On fast, newer PCs, these don't usually affect system performance. But on slower and older PCs, they can exact a performance hit.
It's easy to turn them off. In the Windows 10 search box type sysdm.cpl and press Enter. That launches the System Properties dialog box. Click the Advanced tab and click "Settings" in the Performance section. That brings you to the Performance Options dialog box. You'll see a varied list of animations and special effects.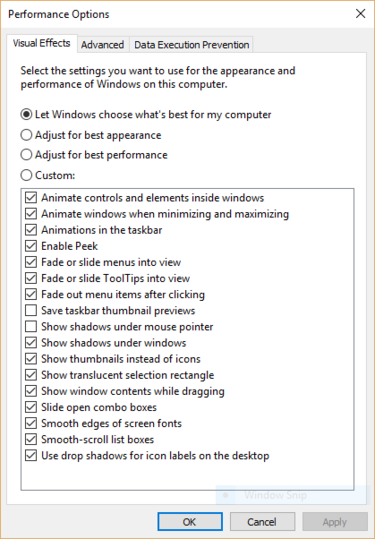 The Performance Options dialog box lets you turn off effects that might be slowing down Windows 10.
If you have time on your hands and love to tweak, you can turn individual ones on and off. These are the animations and special effects you'll probably want to turn off, because they have the greatest effect on system performance:
Animate controls and elements inside windows
Animate windows when minimizing and maximizing
Animations in the taskbar
Fade or slide menus into view
Fade or slide ToolTips into view
Fade out menu items after clicking
Show shadows under windows
However, it's probably a lot easier to just select "Adjust for best performance" at the top of the screen and then click OK. Windows 10 will then turn off the effects that slow down your system.
3. Launch the Windows troubleshooter
Windows 10 has a very useful, little-known tool that can sniff out performance problems and solve them. To launch it, type troubleshooting into the search box, and click the "Troubleshooting Control Panel" icon that appears. Then click "Run maintenance tasks" in the System and Security section of the screen that appears. A screen titled "Troubleshoot and help prevent computer problems" will appear. Click Next.
The troubleshooter will find files and shortcuts you don't use, identify any performance and other issues on your PC, report them to you and then fix them. Note that you may get a message that says, "Try troubleshooting as an administrator." If you have administrative rights to the PC, click it and the troubleshooter will launch and do its work.
Previous Page 1 2 3 4 Next Page