Windows 10 begins to eat into Windows 7's usage share
Quick shift from Windows 8.1 upgraders to those updating from Windows 7 is good news for Microsoft.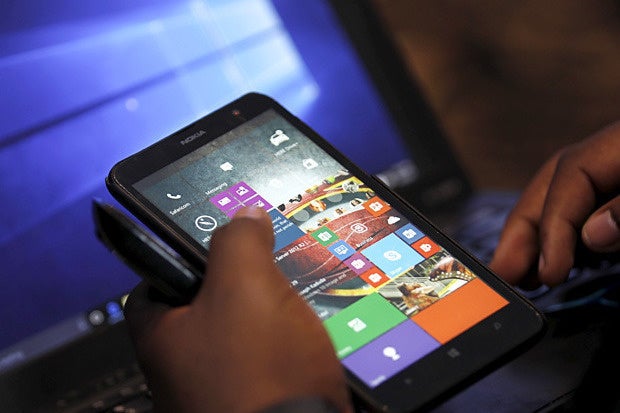 A Microsoft delegate checks applications on a smartphone during the launch of the Windows 10 operating system, July 29, 2015. Credit: REUTERS/Thomas Mukoya
Although it initially tempted Windows 8.1 users, Windows 10 has increasingly grown its usage share at the expense of the much more widely used Windows 7, an encouraging sign for Microsoft's efforts to convince the old guard to switch.
Using data from Irish analytics company StatCounter, Computerworld calculated the changes in usage share -- a measurement of desktop-and-laptop-driven online activity -- of the various editions of Windows since 10's debut on July 29.
For the first four weeks after Windows 10's release, Windows 8.1 led in losses, beating Windows 7 by a wide margin. During that month-long span, Windows 8.1 accounted for 67% of all declines by it and Windows 7 -- those two editions are the only eligible for the free upgrade to Windows 10 -- while Windows 7 accounted for the remainder, or 33%. In each of those four weeks, Windows 8.1's losses exceeded those of Windows 7.
But that changed in Week 5.
In the last three full weeks, Windows 7's losses were larger than those of Windows 8.1. It was no contest, since Windows 8.1 actually gained usage share in the week ending Sept. 15. (The weeks used by Computerworld ran from Wednesday to Tuesday because Windows 10 was launched on a Wednesday.)

During the first four weeks of Windows 10's launch, Windows 8.1 lost significantly more usage share than Windows 7. (The two editions are the only eligible for the free upgrade.) Starting Week 5, however, the tables turned and Windows 7 declined by more than its successor. Click on image to enlarge. Data: StatCounter
For all seven weeks since Windows 10's launch, losses recorded by Windows 7 accounted for 63% of all declines by it and Windows 8.1, with the latter responsible for the remaining 37%.
StatCounter's data validates expectations of how Windows 10 would be adopted: That Windows 8.1 users, who were not only running the latest OS -- upgrade installations almost always initially skew toward those starting from newer OSes -- but were presumably the least satisfied with their edition because of its bifurcated user interface (UI), would be the first to jump on Windows 10 and its restoration of the Start menu.
Windows 10 was going to be a harder sell to Windows 7 users, that thinking went, because they were more set in their ways and already had a desktop-centric operating system. But convincing those customers to switch was going to be critical if Microsoft was to meet its self-imposed goal of putting Windows 10 on 1 billion devices by mid-2018, simply because Windows 7 was the dominant edition. According to StatCounter, Windows 7's usage share stood at 55.1% of all OSes on the morning of Windows 10's release; by Sept. 15, it had dropped to 51.5%.