Windows 10 Anniversary Update: The good, the bad and the 'meh'
The new version of Windows 10 is a solid, if not dramatic, upgrade. Cortana haters, though, won't be happy.
Killing Wi-Fi Sense
People who are concerned about personal security will be pleased at something Microsoft has removed from Windows 10: A controversial aspect of its Wi-Fi Sense feature that was designed to automatically connect guests to Wi-Fi networks without their having to type in passwords. When Windows 10 was first released a year ago, people worried that it invaded their privacy by sharing all their Wi-Fi passwords with their Outlook and Skype contacts, and with their Facebook friends -- as well as all of their friends' friends.
If they looked at the way it actually worked, they would have seen it wasn't a big privacy invader because the passwords wouldn't be visible to anyone. In addition, users controlled whether to use the feature and would have to manually turn on sharing for each one of their Wi-Fi networks.
But Microsoft was stung by the criticism -- in a blog post, a company representative writes, "The cost of updating the code to keep this feature working combined with low usage and low demand made this not worth further investment." What Microsoft didn't say was that doing away with it would be good public relations for the company as well.
The feature hasn't been completely killed, though -- only the controversial part of it that has to do with you sharing your Wi-Fi networks with others. So in the Anniversary Update, the same blog explains, "Wi-Fi Sense, if enabled, will continue to get you connected to open Wi-Fi hotspots that it knows about through crowdsourcing." That means if you're near a publicly open Wi-Fi hotspot, you'll be automatically logged in.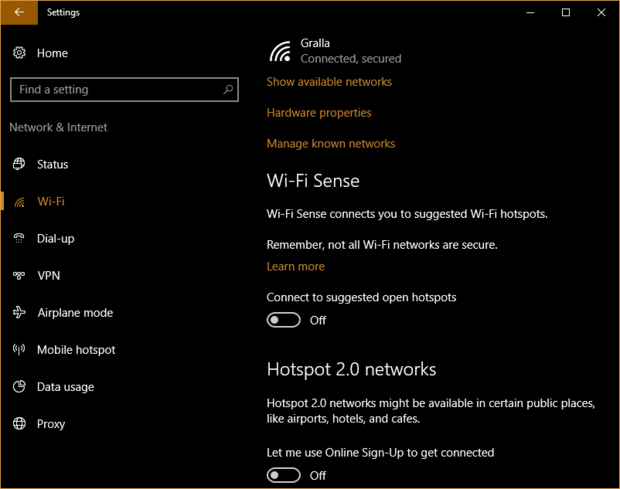 The Windows 10 Anniversary Update eliminates the more controversial features in Wi-Fi Sense.
This feature is enabled by default. If you want to turn it off, go to Settings > Network & Internet > Wi-Fi, then scrolling to the Wi-Fi Sense section. Underneath "Connect to suggested open hotspots," turn the setting to Off.
Windows 10 makes friends with Linux
The update has a gift for developers who use both Windows and Linux: a built-in Linux command line consisting of a GNU Bash shell. It's the real thing -- a full-blown Ubuntu command line created in partnership with Canonical. Bash is a tool for developers -- not a server platform for running websites or server infrastructure. So while most users won't care much about this, many developers will greet it with open arms.
The Linux command line isn't turned on by default -- and if you want to turn it on, you're going to have to do some work. To do it, go to Settings > Update & security > For developers, and choose Developer mode. You'll then have to wait for the "Developer mode package" to download (which took me less than a minute).
Previous Page 1 2 3 4 5 6 7 8 Next Page