Windows 10 Anniversary Update: The good, the bad and the 'meh'
The new version of Windows 10 is a solid, if not dramatic, upgrade. Cortana haters, though, won't be happy.
Improving the Start menu
Perhaps the most-lauded change to Windows 10 was bringing back the Start menu. Microsoft obviously isn't done with its work on the menu, because the Windows 10 Anniversary Update includes a host of helpful little tweaks. Nothing revolutionary, but there are some nice improvements.
Probably the best change is that the All Apps list appears when you click the Start button, so that you immediately see an alphabetical, scrollable list of all the apps and desktop applications on your PC. Before this, you had to first click the Start button, then click All Apps. Saving a single click might not sound that important, but until this update, I rarely found myself using All Apps. Now I use it all the time.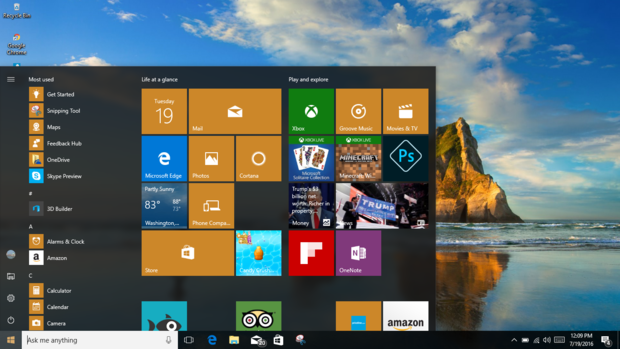 The Start menu now displays all of your apps in alphabetical order.
The Start menu has other improvements as well. Links to Power, File Explorer, Settings and your Microsoft account have been moved to a narrow list on the left side of the Start Menu, so they're always visible when the Start Menu is.
The Start Menu has also been changed in tablet mode. You're no longer tied to an interface that only shows pinned tiles -- you can now have a full-screen All Apps view that lets you scroll through all of your apps and desktop applications more quickly to find one you want. Also, there are now permanent links to Power, File Explorer, Settings and your Microsoft account on the left side of the screen in tablet mode just as in desktop mode.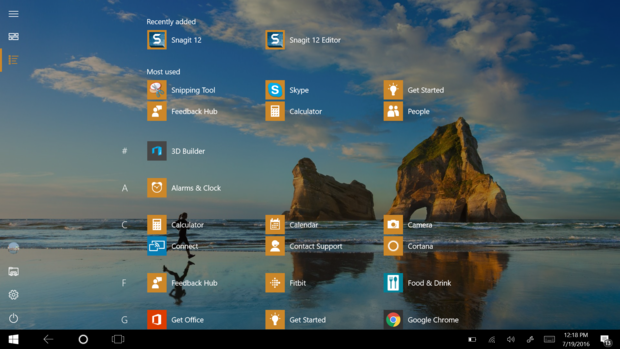 You can now have an All Apps view on tablets.
You can also auto-hide the taskbar when you're in in tablet mode, even if you hadn't hidden it in desktop mode. (Before the Windows 10 Anniversary Update, if you hid it in one, it was automatically hidden in the other.) To auto-hide it in tablet mode, go to Settings > System > Tablet Mode and switch on the setting "Automatically hide the taskbar in tablet mode."
All this is nice, if not particularly revolutionary.
Cortana gets smarter
Cortana has also been improved. It now lets you use natural-language requests to perform tasks such as sending email, which I found generally useful.
However, although Cortana might be smarter than it used to be, it's still no Einstein. For example, the first time I said, "Send an email to Lydia Gralla," it did a fine job, finding Lydia's several email addresses, asking which one I wanted to use, and then letting me fill out a form onscreen to create and send the email without having to go into a mail app. It was particularly impressive because I didn't have Lydia's address in my Outlook account. Instead, it was in my Gmail account, and because I had linked that account to the Windows 10 Mail app, Cortana found the email address in Gmail.
Previous Page 1 2 3 4 5 6 7 8 Next Page