Windows 10 Anniversary Update review: Cortana, Edge overshadow Windows Ink
The improvements Microsoft has made on features you use every day are what really matter.
Skype Preview: To the point
Skype was notoriously left out of the original Windows 10 release, replaced with a "Get Skype" placeholder app. Now, Microsoft's prepared for the eventual re-release of Skype as a UWP app with Skype Preview, which so far has proven simple and effective.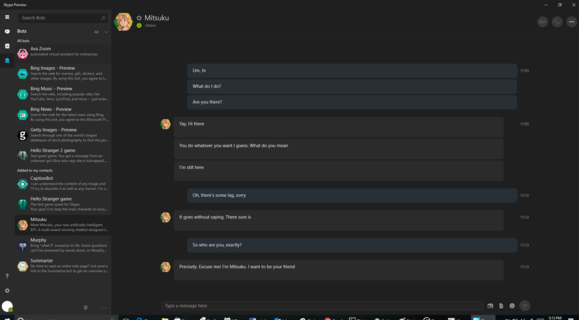 The new Skype Preview supports a number of chatbots, but a bug prevented their responses from being displayed in real time.
Ignore all the silly love emoticons and other cruft Microsoft added to Skype earlier this year. Skype Preview does calls and messaging—even some of the new chatbots Microsoft highlighted at its Build conference—and that's about it. Premium features, such as translation, aren't quite there yet. Refreshingly, Skype Preview just logged me in using my Windows login credentials.
I'm not a huge Skype user, although I tend to have most of my overseas conversations using the service. Skype Preview might not be the final, full-fledged UWP app, but it seems like it does everything I need to at the moment.
Other UWP apps get their own tweaks
You'll notice tweaks big and small to other UWP apps in the Anniversary Update. Here are the highlights:
One of the biggest is actually a new addition: the Bash app, which lets developers to try out a Linux environment within Windows, without the need for a virtual machine. I'll confess that I know little about Linux, however, and can't offer any informed commentary on what the shell can or can't do.
Insider builds of the Windows 10 Mobile Photos app now capture video in slow motion, and a similar capability may be coming to the desktop Photos app as well. Unfortunately, Microsoft pulled it before the AU code shipped.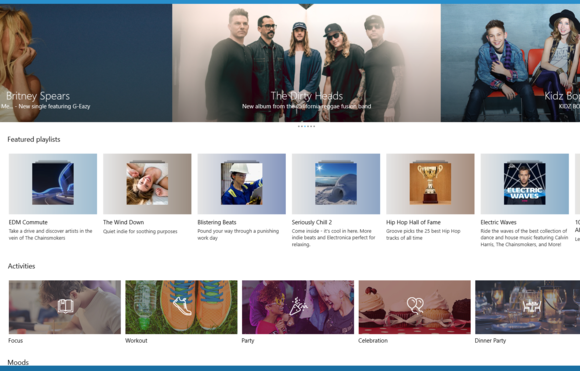 Here's what Groove Music subscribers see if they pay $9.99/mo for the service. Unlike Spotify, you can't tap into custom, curated playlists or even play music for free, albeit with ads.
Mail's been updated with the ability to drag-and-drop calendar appointments. It's also mercifully much more stable, unlike in the early days of Windows 10.
Finally, the Start menu looks just a shade different: What was previously an All Apps button is now just a scrolling list of apps, by default.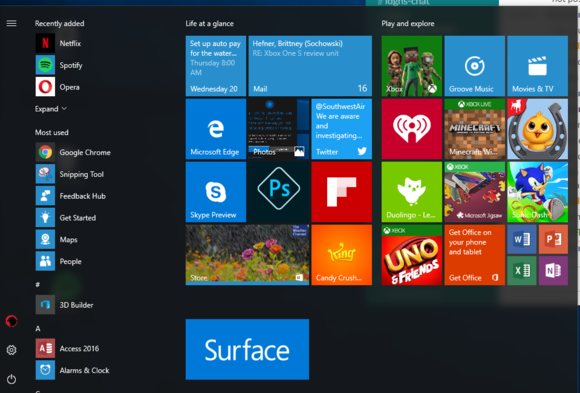 Although you can tweak it as you'd like, the Start Menu in my test version of the Anniversary Update went very heavy on the suggested apps.
Connect: The Continuum you don't need
The Connect app marries your Windows 10 Mobile device to your Windows 10 desktop wirelessly, providing a Continuum-like experience without the cost of the Display Dock. I don't quite grok the Connect app on Windows 10.
Previous Page 1 2 3 4 5 6 7 8 9 10 Next Page