Windows 10 Anniversary Update review: Cortana, Edge overshadow Windows Ink
The improvements Microsoft has made on features you use every day are what really matter.
Under the hood: Hidden depths and Action Center
A number of minor features have been added to the Windows 10 code since last year, incremental improvements that sometimes fly under the radar. I highlight a few below that I think make a substantive difference: the addition of numbers to taskbar icons, dark mode, a quick calendar view, improvements to the Action Center, and a tweak for configuring audio sources.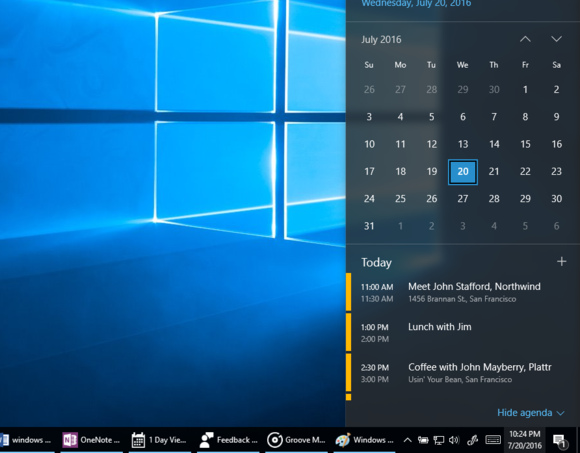 Click the time/date box on the taskbar, and a quick look at your day pops up. Also note the superimposed "1" over the Action Center: We're (almost) all caught up.
Notifications are now an important component of the modern operating system, and the Action Center has improved in the last few months' worth of Insider Builds. Previously, the Action Center was dominated by whichever application had the most notifications (email, in my case). Now, it gives equal weight to various apps, tucking older notifications out of sight.
Windows will also show the number of total notifications in the Taskbar. Clicking the Taskbar's time/date will also show a concise view of your calendar for the day. That time and date will also show up on all of your displays—not just the primary one. Oh, and there's a dark mode, too, available in the Settings menu's Personalization section—but just for some UWP apps, and not Win32 apps or even the whole of the Windows 10 UI.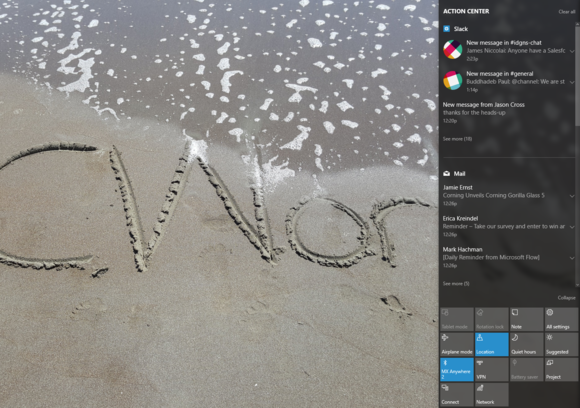 Action Center now better organizes your notifications into categories. Note the quick settings icons at the bottom. (You may need to click Expand to see them.)
Here's one hidden feature I really love: Switching between audio sources (like headphones or tablet speakers) used to be a function of a buried control panel. Now, you can simply click the volume icon, then click the arrow above the slider to change your audio sources. (But there's still no graphic equalizer in Groove!)
Next: OneDrive loses smart files, then gets them back, sort of.
OneDrive: An app that meets you halfway
In May, Microsoft launched a UWP OneDrive app, which helped address the loss of "smart" or "placeholder" files in the original release of Windows 10.
The OneDrive app is a somewhat acceptable compromise between what Microsoft used to offer, and what it should.
Windows 10's Anniversary Update improves OneDrive in important ways. In my original review of Windows 10 last year, I wrote of OneDrive: "One feature has disappeared, though: the confusing 'placeholder' files that resided on your PC as a timesaving device. And that's good."
Previous Page 1 2 3 4 5 6 7 8 9 10 Next Page