Windows 10 Anniversary Update review: Cortana, Edge overshadow Windows Ink
The improvements Microsoft has made on features you use every day are what really matter.
Screen Sketch, meanwhile, reminds me of how I use a Galaxy Note smartphone: for grabbing webpages or scrawling a note, and posting them online. My beef is how Windows fails to recognize that my primary desktop monitor is not touch-enabled, and dumps both Screen Sketch and Sticky Notes there, rather than on my touchscreen directly next to it.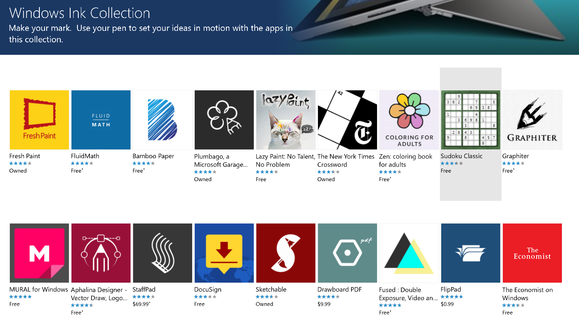 Microsoft has helpfully collected many ink-enabled apps in the Microsoft Store. (There are more than what you see here.)
I never thought I'd say this, but there's a section of the Windows Store worth checking out, and that is the Windows Ink section. It contains at least 40 apps, all curated for pen use. This is a refreshing change: a smart collection of apps organized with a purpose.
One expected feature, digitally inking a route in the Maps app, isn't ready yet. Microsoft tells me it also plans to expand OneNote's smart inking—a freehand circle, for instance, converts to a machine-generated one—to equations. But this misses the point: Until Microsoft delivers the capability to interpret inked letters as rich, editable text, that can be inserted into Word or Outlook, Windows Ink isn't fully baked.
Task View and Snap: Still invaluable
The Anniversary Update doesn't change that much about Task View, Microsoft's virtual desktop utility, but it adds the ability to pin windows from a particular app to multiple desktops—not just one—and to do the same for multiple windows. It also allows you to pin a chat app or music player where it's always accessible.
A new Task View option within the Windows 10 Anniversary Update allows you to pin an app to multiple desktops, such as Groove Music or Slack.
I suspect that most users prefer to use multiple physical monitors, then forget about Microsoft's extremely useful Task View feature when they're confined to a notebook. Snap and Task View go hand in hand: You can snap apps to the four corners of a screen, or one to each side. Task View allows you to swap between these "screens" of apps with just a keystroke combination.
I just wish there were a simpler way to slide between desktops. Ctrl + Win + either Right or Left Arrow isn't all that intuitive, and there's still that pesky hard stop at the end of the row of virtual desktops. Perhaps Microsoft could implement a touchscreen gesture, or the three-finger swipe used to move between apps could be reassigned to desktops. That hasn't stopped both Snap and Task View from remaining one of the most valuable features of Windows 10.
Previous Page 1 2 3 4 5 6 7 8 9 10 Next Page