Windows 10 Anniversary Update review: Cortana, Edge overshadow Windows Ink
The improvements Microsoft has made on features you use every day are what really matter.
Next: How seriously should we take Windows Ink?
Windows Ink: Just the basics of pen computing
Pen computing has been part of the Apple Newton, the Tablet PC, the Surface Pro 3, and other devices. But the PC world has never really answered the central question concerning the pen: What exactly do you do with it?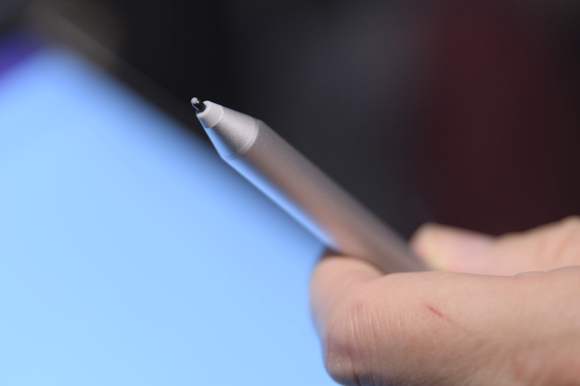 One of the new ways to interact with your PC is via the pen.
Virtually everything about Windows Ink was designed for the Anniversary Update. OneNote used to be Microsoft's great inking application; now, a collection of native Windows Ink-powered apps (which originated from the massive Surface Hub)—Sticky Notes, Sketchpad, and Screen Sketch—is elbowing into its territory. And if those aren't good enough, a curated collection of inking apps are now in the Windows Store.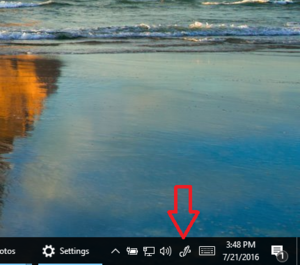 Windows Ink begins with this tiny icon on the Windows 10 taskbar.
A few years ago, Microsoft executives showed a Surface Pro 3 tablet that could be written upon just by clicking the stylus, even without unlocking the PC. Today, that same feature (which, due to a bug or faulty Surface Pen, I could not get to work) unlocks the Windows Ink Workspace and any of the associated apps. They're also found behind the new pen icon, in the Windows taskbar.
Of the three Workspace apps, neither Sticky Notes nor Sketchpad particularly impress me. Sticky Notes simply plop themselves on your screen—yes, like tiny, physical sticky notes. A late-breaking tweak just before the Anniversary Update launched added the Insights feature, which allows Bing to interpret a scrawled flight number, for instance, as actual, actionable data.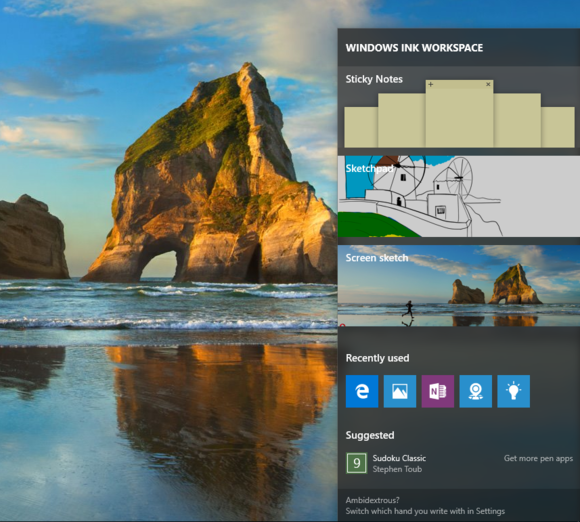 Click the pen icon, and Windows will launch the Windows Ink Workspace, a collection of ink-specific apps.
Sketchpad's existence, meanwhile, basically tells me that Microsoft felt OneNote, even the simplified Metro version that shipped with the Surface Pro 3, was simply overkill for what users want to do: scrawl a quick note. Sketchpad, though, doesn't quite fix things: It feels more like a drawing tool than a note-taking app. What I'd like to see is for Sticky Notes to go away and Insights to migrate to Sketchpad. Ideally, Windows would "read" all of your digital scribbles, anyway—or at least those that you've designated.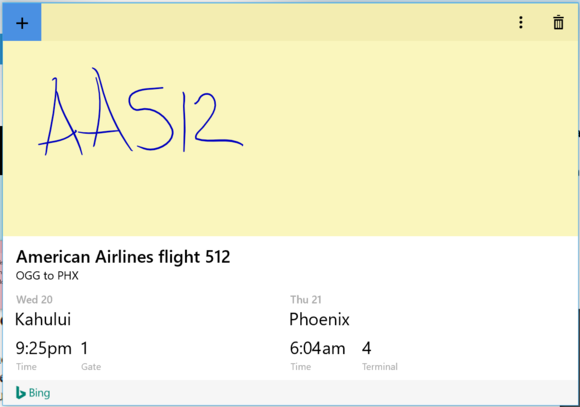 As long as you have Insights turned on as an option, Cortana and Bing can interpret certain notes as items that they can pull up more information on.
Previous Page 1 2 3 4 5 6 7 8 9 10 Next Page