The Macintosh is at a new crossroads
The death of the Thunderbolt Display is one more sign of a major change coming to the Mac's peripheral support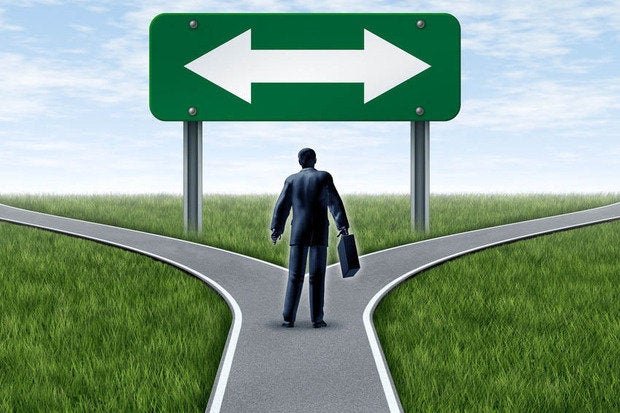 Late last week, Apple announced it has discontinued its Thunderbolt Display, a once-groundbreaking 27-inch monitor that functioned not only as a monitor but as a hub for MacBooks and other Macs attached to it.
The Thunderbolt Display, which hadn't been updated since 2011, epitomized Apple's Mac strategy at the time of providing high-capacity, high-speed peripheral connections to set Macs apart from the pokey peripheral buses then common on PCs. The Mac was for power users; the PC was not.
But Apple has started to rethink the Mac, making the Thunderbolt Display a poor fit for the future Mac.
It's clear from several peripherals-related moves that the Mac is at a crossroads.
The signs suggest that Apple is about to push users away from local and direct-connected peripherals to cloud and wireless ones.
Peripheral support is a good gauge of a platform's direction. Right now, Apple's peripheral support is muddled, with Thunderbolt, USB-3, and MiniDispay Port (via the Thunderbolt connector) standard on all Macs except the 12-inch MacBook , which was released last year and supports just USB-C. But none of Apple's Macs have gotten significant peripheral-related hardware updates in years beyond the move -- which doesn't affect existing peripherals -- from Thunderbolt 1 to Thunderbolt 2 and from USB 2 to USB 3.
Before the appearance of USB-C, the last major switch in Apple peripheral support was dropping FireWire ports in 2012, a year after Thunderbolt's debut. Will USB-C now replace Thunderbolt across the Mac product line? The end of the Thunderbolt Display certainly suggests so, especially since Apple never bothered to provide a way to connect the 12-inch MacBook to the Thunderbolt Display, essentially requiring MacBook owners to use a non-Apple monitor with that laptop.
Dropping Thunderbolt in favor of USB-C, however, will impose a huge cost on more advanced users. Apple shielded such users from the huge switching cost to Thunderbolt storage (which to this day remains very expensive) thanks to Apple's Thunderbolt-to-FireWire adapter. So far, Apple has not provided a similar migration from Thunderbolt to USB-C.
It hasn't had to, of course, because the MacBook is actually a low-performing device, meant to be an iPad replacement more than a Mac replacement. But if Apple moves USB-C into its more capable MacBook Air, MacBook Pro, Mac Mini, and iMac lines, navigating that peripheral transition could get quite expensive.
Yes, many people use cheaper USB drives for backup and secondary storage, but even with USB 3 buses, the available bandwidth quickly gets consumed as you add more devices to the Mac. It's not clear yet if USB-C's architecture will overcome that problem.
Apple's USB-C dongles don't support many peripherals, which is fine for the underpowered MacBook's intended use as a supplemental Mac on the go. For users of more capable Macs, once they have a USB-C port, Other World Computing has aUSB-C dock that supports USB 3, gigabit Ethernet, and HDMI ports that, like its similar Thunderbolt dock, could provide the kind of high-capacity docking that the Thunderbolt Display had provided.