The 'Late 2016' MacBook Pro isn't exciting, but still leads by example
The much-hyped Touch Bar is less important than four Thunderbolt 3 ports
What should you take away from the long, long wait for Apple's new 13-in. and 15-in. MacBook Pros and the fact that they're relatively pedestrian? For one thing, they might not be as pedestrian as they seem.
Let's get this over with: Macs just aren't the coolest thing Apple does anymore. They don't bring in huge profits. People don't lust after them the way they do a new iPhone. They're not the second or third or even fourth thing that CEO Tim Cook and Design chief Jonny Ives are thinking about.
So Apple let the new MacBook Pro release slip and then it let it slip some more. Before you knew it, the company was releasing sixth-generation Skylake laptops into the rollout of Intel's seventh-generation Kaby Lake processors. Apple needed something new and different and -- poof! -- the Touch Bar was born. Touch Bar is a red herring, a pink unicorn, eye candy designed to cast a "these aren't the droids you're looking for" spell on anyone who looks too closely at the new line up of MacBook Pros. What's more, even if Touch Bar might someday be useful, that won't be for another couple of years when mainstream software supports it. The list of supporting apps consists mostly of niche players with the exception of Microsoft Office. And Microsoft's support? Has anyone heard a timeline on that? By the time the Touch Bar gets real, Apple might be on to a full-size touchscreen.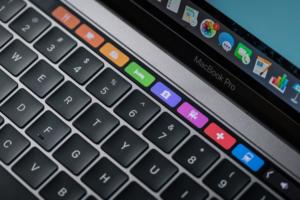 Adam Patrick Murray
There's more to the new MacBook Pro than the Touch Bar. I bought my daughter a space gray MacBook Pro 13 for Christmas. (And you thought I was a hater.) The form factor changes have a greater effect in the 13 than they do in the 15. I'm not talking about the specifications; I'm talking about what it feels like to use these laptops in the real world. The 13 has something the 15 (and the previous generation 13) doesn't have: total portability. If you're not sure what I'm driving at, maybe boxing is a good analogy. The heft and size changes Apple made to the 13 put it into a lighter weight class. The differences between the old 15 and the new one are measurable, but they don't change the overall usage pattern.
Given that the MacBook Pro 15 Retina I use is an early 2013 model, making it four years old, I'll need to upgrade soon. I'm certain to buy the latest MacBook Pro 15 because I've never been able to stand the 13-in. screen size. What tends to draw me to a new Mac isn't the slightly faster CPU, video or SSD performance. It's the little conveniences that get me: being able to plug in the power cord on either side because of the Thunderbolt 3 ports, the Touch ID login, a noticeably brighter LED display and a big beautiful trackpad. The Touch ID login is more useful than you might think. The new MacBook Pro is designed to sleep first. In fact, you really have to work to shut it down from the hardware. By default, when you press the physical off/Touch ID button the MacBook Pro goes to sleep. In my tests of the latest models, the MacBook Pro can go a long time in that sleep state. The next time you start the Mac you're waking it up -- not powering it on. Touch ID works beautifully when waking up, making apparent boot times much faster. The success of this sleep state should make Touch ID useful more often. (Apple requires password entry when the machine is started up from an unpowered state.)