The best enterprise tips and tricks for Windows 10
Here's how to speed up Windows 10, keep it running smoothly, protect your privacy and more.
Also, when you ask to see your schedule — such as by asking, "What's my schedule today?" — Cortana will show you the events from all of your calendars, including Google.
One downside is that you can't add events to sub-calendars on Google Calendar (such as "home" or "work") with any regular success. Sometimes it works, and sometimes it doesn't.
Use Cortana on the lock screen
If you've got the Windows 10 Anniversary Update or the Windows 10 Creators Update, you can work with the digital assistant on the lock screen, which means you won't even have to log into Windows to use it.
To get started: Click in the Cortana search bar and click the gear icon that appears on the left side of the pop-up menu. This brings up Cortana's settings.
Scroll down to the lock screen section and move the slider to On. Look just below that for the setting, "Let Cortana access my calendar, email, messages, and Power BI data when my device is locked." Switch that on as well. If you don't, Cortana will be limited in what it can do for you from the lock screen — you'll be able to listen to music and find out the weather from the lock screen, but you won't be able to set reminders, send emails or add events to your calendar.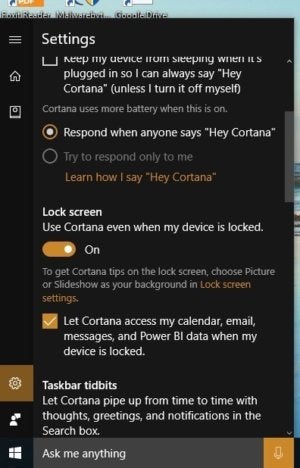 This setting lets you use Cortana on the lock screen in the Windows 10 Anniversary Update.
Once you've done that, to use Cortana from the lock screen, you can just say, "Hey Cortana," and use it from the lock screen as you normally would, to set reminders, play music, check your calendar and more, without logging into Windows.
Miscellaneous tips
Finally, I've two more tips for you — one for tweaking the Start menu, and another to control how Windows updates itself.
Tweak the Start Menu
Don't like the way the Start Menu looks? No problem — you can tweak it. To resize it, hover your cursor over any of its edges until a double-headed arrow appears, and then drag until it's the size you want. You can also resize the live tiles on the Start menu. Right-click any of them and select Small, Medium, Wide or Large.
The Windows 10 Creators Update gives you an even more powerful way to tweak the Start menu: Place multiple tiles into a folder on the Start menu. It's simple: You just drag one tile onto another. This automatically creates a folder with both tiles inside it. You can then drag any other tiles you want into the folder.
Previous Page 1 2 3 4 5 6 7 8 9 10 Next Page