The best enterprise tips and tricks for Windows 10
Here's how to speed up Windows 10, keep it running smoothly, protect your privacy and more.
Ditch a Microsoft account for a local account
When you use your Microsoft account to log into Windows 10, you're able to sync your settings with all Windows devices. So, for example, when you make changes to your settings on a desktop PC, those changes will also be made on your laptop the next time you log in.
But maybe you don't want Microsoft to store that information about you. And maybe you want to cut your ties as much as possible to anything Microsoft stores about you. If that's the case, your best bet is to stop using your Microsoft account and instead use a local account.
It's simple to do. Go to Settings > Accounts > Your info and select "Sign in with a local account instead." A wizard launches. Follow its instructions to create and use a local account. Keep in mind that when you do this, you won't be able to use Microsoft's OneDrive storage or download and install for-pay apps from the Windows Store. You can, however, download and install free apps from the Windows Store.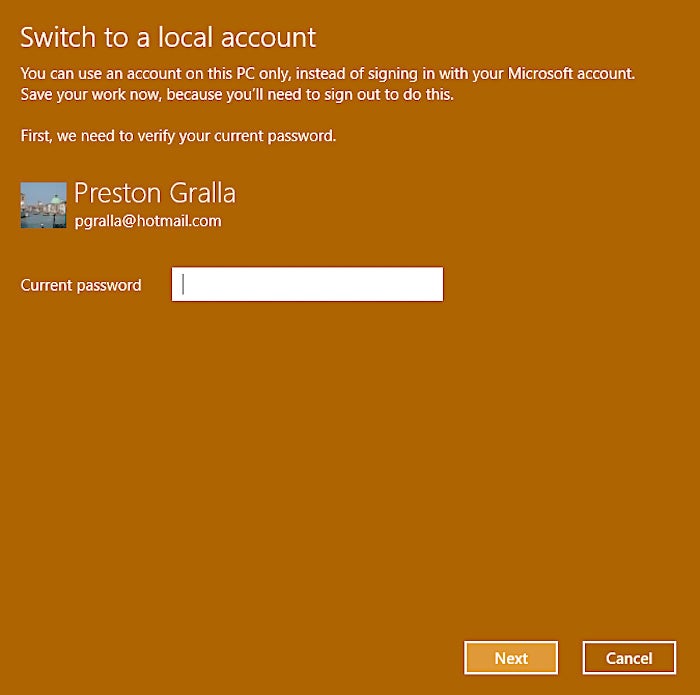 Start here to set up a local account.
Get the most out of Cortana
Microsoft's digital assistant, Cortana, is one of the major additions to Windows 10 — and it's a winner. Turn it on and Cortana alerts you to upcoming meetings; searches your PC and the Web; tells you about the weather, news and sports; and a lot more.
To help you get the most out of Cortana, I've put together a few of my favorite tips for using it — including using Cortana to answer questions directly without sending you to the web, using it to manage your Google Calendar, and using Cortana on the lock screen so you won't even have to log into Windows to use it.
Note: These tips assume you're already familiar with the basics of Cortana. If you want help getting started, see the "Say 'Hey Cortana'" section of Computerworld's Windows 10 Cheat Sheet.
Get a direct answer to your question
When you ask Cortana a question, it will typically show you the answer via a listing of web links; you then open the search results in your browser. That's what happened, for example, when I asked, "What was the coldest day of the year in 2016 in Boston?"
That's a useful but time-consuming process, because you have to browse through the search results, click one and then look for information from the web page that appears.
But there are plenty of questions that Cortana can answer directly without first sending you out to the web. Instead, you get your answers right in Cortana's pane. Following is just a partial list — try experimenting on your own to see what else it knows.
Previous Page 1 2 3 4 5 6 7 8 9 10 Next Page