The best enterprise tips and tricks for Windows 10
Here's how to speed up Windows 10, keep it running smoothly, protect your privacy and more.
Click the Startup tab. You'll see a list of the programs and services that launch when you start Windows. Included on the list is each program's name as well as its publisher, whether it's enabled to run on startup, and its "Startup impact," which is how much it slows down Windows 10 when the system starts up.
To stop a program or service from launching at startup, right-click it and select "Disable." This doesn't disable the program entirely; it only prevents it from launching at startup — you can always run the application after launch. Also, if you later decide you want it to launch at startup, you can just return to this area of the Task Manager, right-click the application and select "Enable."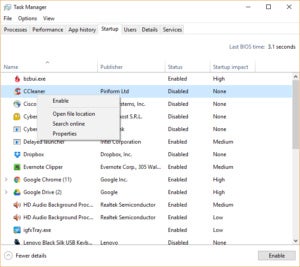 You can use the Task Manager to help get information about programs that launch at startup and disable any you don't need.
Many of the programs and services that run on startup, such as OneDrive or Evernote Clipper, may be familiar to you. But you may not recognize many of them. (Anyone who immediately knows what "bzbui.exe" is, please raise your hand. No fair Googling it first.)
The Task Manager helps you get information about unfamiliar programs. Right-click an item and select Properties for more information about it, including its location on your hard disk, whether it has a digital signature, the version number, the file size and the last time it was modified.
You can also right-click the item and select "Open file location." That opens File Explorer and takes it to the folder where the file is located, which may give you another clue about the program's purpose.
Finally, and most helpfully, you can select "Search online" after you right-click. Bing will then launch with links to sites with information about the program or service.
If you're really nervous about one of the listed applications, you can go to a site run by Reason Software called Should I Block It? and search for the file name. You'll usually find very solid information about the program or service.
Now that you've selected all the programs that you want to disable at startup, the next time you restart your computer, the system will be a lot less concerned with unnecessary programs.
Get help from the Performance Monitor
There's a great tool in Windows 10 called the Performance Monitor that can, among other things, create a detailed performance report about your PC, detail any system and performance issues, and suggest fixes.
To get the report, type perfmon /report into your search box and press Enter. (Make sure there's a space between "perfmon" and the slash mark.) The Resource and Performance Monitor launches and gathers information about your system. It will say that it will take 60 seconds, but I've found that it takes several minutes. When the Monitor finishes, it will launch an interactive report.
Previous Page 1 2 3 4 5 6 7 8 9 10 Next Page