The best enterprise tips and tricks for Windows 10
Here's how to speed up Windows 10, keep it running smoothly, protect your privacy and more.
Tired of Windows 10 bossing you around? Want to master it instead of it letting it be the master of you? If so, you're in luck, because I've got plenty of tips to help you get the most out of it. Whether you want to speed up the way Windows 10 works, fix its biggest headaches, protect your privacy, teach Cortana new tricks, or more, this article has what you need. Within minutes, you'll be gleefully asking the operating system, "Who's your daddy?"
Speed up Windows 10
No matter how fast your PC runs Windows 10, you want to run it faster. But there's no need to upgrade to a new PC. Follow these tips to speed up Windows 10.
Change your power settings
If you're using Windows 10's power-saver plan, you're slowing down your PC. That plan reduces your PC's performance in order to save energy. (Even desktop PCs typically have a power-saver plan.) Changing your power plan from power saver to high-performance or balanced will give you an instant performance boost.
To do it, launch Control Panel, then select Hardware and Sound > Power Options. You'll typically see two options: balanced (recommended) and power saver. (Depending on your make and model, you might see other plans here as well, including some branded by the manufacturer.) To see the high-performance setting, click the down arrow next to Show Additional Plans.
To change your power setting, simply choose the one you want, then exit Control Panel. High-performance gives you the most oomph but uses the most power; balanced finds a median between power use and better performance; and power saver does everything it can to give you as much battery life as possible. Desktop users have no reason to choose power saver, and even laptop users should consider the balanced option when unplugged — and high-performance when connected to a power source.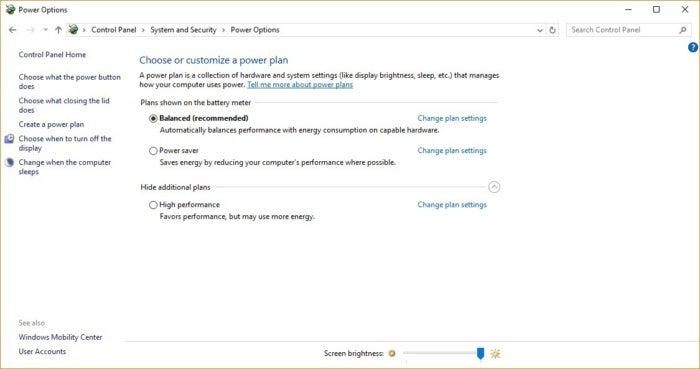 Change your power settings in Control Panel to give your PC a performance boost.
Disable programs that run on startup
One reason your Windows 10 PC may feel sluggish is you've got too many programs running in the background — programs that you may never use, or only rarely. Stop them from running, and your PC will run more smoothly.
Start by launching the Task Manager: Press Ctrl-Shift-Esc or right-click the lower-right corner of your screen and select Task Manager. If the Task Manager launches as a compact app with no tabs, click "More details" at the bottom of your screen. The Task Manager will then appear in all of its full-tabbed glory. There's plenty you can do with it, but we're going to focus only on killing unnecessary programs that run at startup.
1 2 3 4 5 6 7 8 9 10 Next Page