The best consumer antivirus products of 2016 are Avira and Norton, test labs say
Symantec, however, held out on AV-Comparatives again.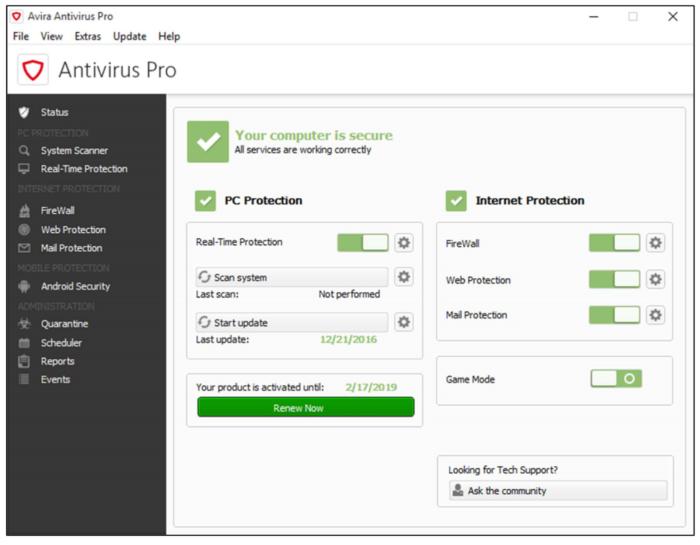 The two major independent antivirus testing houses have completed their assessments of the best antivirus products for 2016, and the results are in: Norton by Symantec came out on top in one test, and Avira in the other.
AV-Comparatives released its best antimalware product of 2016 on Tuesday, after AV-Test announced its choice last week. There was the usual dash of controversy, however, as Symantec again declined to submit its Norton product to AV-Comparatives for testing.
Otherwise, the winners were clear: AV-Test anointed Norton Security 2016 as providing the best Protection of all consumer antimalware products it tested during 2016. AV-Comparatives named Avira Antivirus Pro 2016 as its best antimalware product of 2016, narrowly edging out Bitdefender and Kaspersky.
Why this matters: No average user wants to venture into the dark recesses of the Web, let alone try to capture the malware that lurks there for product testing. Specialized testing houses do do this, however, with the idea that testing a PC's defenses is better done in the laboratory than on your machine. You certainly don't have to take the advice of AV-Test and AV-Comparatives as gospel. Factors like pricing and how usable each program aren't considered. But the findings give you a number of options from which to choose.
AV-Comparatives breaks down the best solutions
The good news is that of the 19 antivirus vendors who submitted products to AV-Comparatives for testing, all were rated as Approved security products, capable of providing acceptable PC protection. That includes Microsoft's built-in, free Windows Defender, which AV-Comparatives and other vendors use as a baseline for comparing the other products.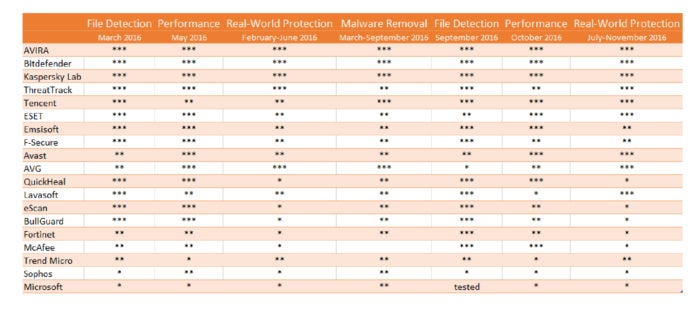 AV-Comparatives
AV-Comparatives' overall test results. One star indicates Standard (acceptable) results, with the other two representing Advanced and Advanced+ scores.
Though it selected Avira as Product of the Year, Bitdefender and Kaspersky Lab scored so highly that AV-Comparatives created a new category, Outstanding Products 2016, to honor the other two. Put simply, the agency believes that all three products supply the best protection for your PC. The firm also assigned a Top-rated Products award to those products that finished at or near the top of various categories: Emsisoft, ESET, Tencent, and ThreatTrack VIPRE.
In considering its awards, AV-Comparatives looked at five different aspects of protection: detecting actual malware, as well as not flagging legitimate software as malware; removing the malware; and how much of an impact protection and removal had on your PC. The fifth test simply looked at how well each product did in the real world (using known malicious URLs), rather than a laboratory.