Settings in iOS 10: Every notable change you need to know
Once you upgrade to iOS 10, take some time to peruse the Settings app to tweak your device to your liking.
Maps
Apple Maps got a huge overhaul in iOS 10, and with it comes some extra things to tweak in its settings. First, you'll select your preferred transportation type—Driving, Walking, or Transit—so that Maps knows what kind of directions to show you first by default.
In the Driving & Navigation menu, you'll find options for avoiding tolls and highways, to show a compass in the app's main navigation, and the settings for your navigation voice volume. You'll also find a toggle that can pause spoken audio during navigation prompts, so that you won't miss a single second of your podcast or audio book.
The Transit menu has a list of all of the transit vehicles that Apple Maps supports. Select which type of vehicle you'd like to see in your transit directions results (heck, if you live in the San Francisco Bay Area, you'll likely want to select all of them).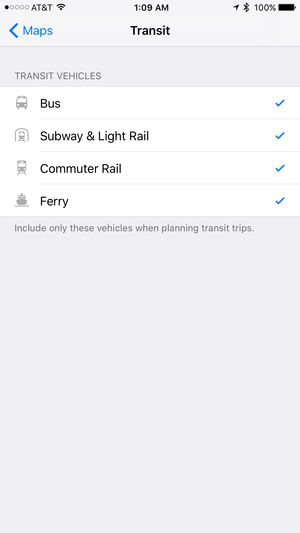 Apple Maps can also remember where you parked your car, if you'd like it to—just toggle on Show Parked Location, and you'll see your car's parked spot on the map. Your iPhone must be connected to your car's Bluetooth or CarPlay stereo in order for this feature to work, however.
The biggest change: Extensions. Apple Maps now supports third-party apps and services, like Lyft, Uber, OpenTable, and Yelp. When searching for directions to a restaurant, for example, you can make a reservation or read reviews straight from your Maps app, and then get a fare and time estimate for your Lyft ride over to the restaurant.
Safari
Apple Pay hit Safari and the Mac with iOS 10. If you'd like to use it more frequently, toggle on the Check for Apple Pay option, which lets websites check to see if you have Apple Pay set up so that they can offer you that payment option at checkout.
IDG Insider
Previous Page 1 2 3 4 5