Settings in iOS 10: Every notable change you need to know
Once you upgrade to iOS 10, take some time to peruse the Settings app to tweak your device to your liking.
Language & Region: iOS 10 has a dedicated setting for Temperature Unit, which lets you switch between Fahrenheit and Celsius. Yay?
Display & Brightness
Nothing crazy to report here, except for that it swallowed up a setting that used to be found elsewhere: Auto-Lock. Your iPhone will automatically lock its display if left idle for too long—you pick that time lapse by tapping Auto-Lock.
Sounds
Not a new Setting, per-se… but have you noticed the new keyboard clicking sound? If you hate it, you can turn the clicks off on the Sounds setting—just scroll all the way down. (Sorry, there's no way to bring the old sound back.)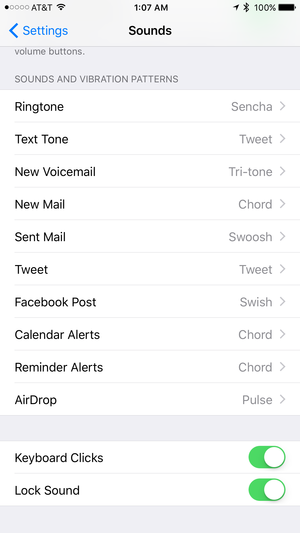 Siri
Siri's settings used to be tucked away in the General section, but in iOS 10, it's displayed right on your main Settings page. Hi, Siri!
Also new: App Support. Siri now works with third-party apps (if, of course, the app developer has used the Siri SDK to build its functionality within the app). Here, you'll find a list of Siri-ready apps; toggle on the ones you want to use Siri with, and keep the others turned off. You can now use Siri to make a restaurant reservation through OpenTable, pay back your friend who picked up the tab through Venmo, and then hail a ride home with Lyft.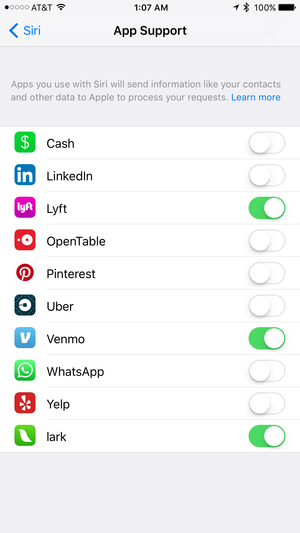 Notes
One reason note-taking apps like Evernote have relegated Apple's built-in Notes app to the sideline is because they have features like collaboration that let multiple people contribute to a note. Apple clearly—please forgive me this pun—took note: iOS 10's version of Notes has a collaboration feature. In Settings, you can password-protect your notes, opt save all media shared within Notes to your Photos app, and sync your Notes with iCloud (or another supported account).
Phone
With iOS 9, the SIM PIN setting moved from the Phone settings to Cellular. Welp, that change didn't last long—in iOS 10, it's back in the Phone settings. This feature lets you put a separate PIN code on your SIM card, so if someone had your stolen or misplaced phone, they couldn't use your SIM card in another device. Your iPhone or iPad will prompt you to enter the SIM pin whenever you swap out the SIM (which you probably won't do much, if ever) or when you reboot the device.
SIM PIN is off by default, so if you want to use it, first you'll turn it on. Your SIM has a default PIN on it already: For AT&T and Verizon, it's 1111. For Sprint and T-Mobile, it's 1234. (Great PINs, y'all.) Once you enter that—and you have to get it right within three tries or your SIM will be locked, but I believe in you—you can tap Change PIN and change it to something good. You can stick with four digits, or use more, up to eight digits total, all numbers. Again, pick something memorable because if you enter the wrong PIN too many times, your SIM will be permanently locked and you'll have to ask your carrier for a new one.
Previous Page 1 2 3 4 5 Next Page