Settings in iOS 10: Every notable change you need to know
Once you upgrade to iOS 10, take some time to peruse the Settings app to tweak your device to your liking.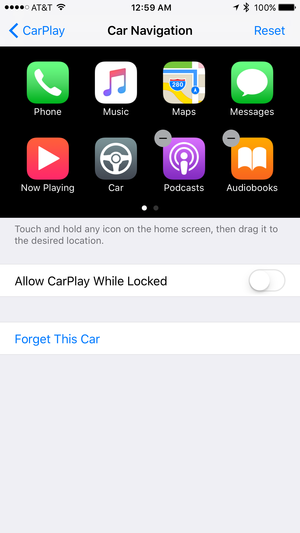 Accessibility: Several tweaks and small changes were made to iOS 10's accessibility features:
VoiceOver: VoiceOver, which speaks items that are found on your iPhone's screen, doesn't have many settings changes, but the settings are organized differently. The Speak Hints toggle is now found under a menu item called Verbosity—when turned on, this feature will provide some additional detail on how to use a button or feature you've selected. Also in the Verbosity settings: an Emoji Suffix toggle, which will speak the word "emoji" when emojis are read in text context if turned on.
The "Use Sound Effects" toggle is missing from the main screen; it's now hidden under the Audio section. You'll also find options for Audio Ducking and to Auto-select Speaker in Call, which will automatically switch your call to speaker phone if you hold the phone away from your ear.
In the Speech section, what once was called Default Dialect is now simply called Voice. Here, you'll select your preferred language, voice, and dialect. You can correct any poor pronunciation of new works by adding an item to the Pronunciations section.
Magnifier: In iOS 10, you can use your iPhone's camera to magnify things IRL, like fine print in a book or a hard-to-read brunch menu. Just toggle on the Magnifier setting. You'll also find the Auto-Brightness tool here.
Display Accommodations: Here, you'll find the settings to invert your display's color, add color filters, or reduce white point, which all assist people who struggle with color blindness. They've moved from Accessibility's main settings page.
Speech: Speech now has more language options for what it can speak back to you, and you can adjust the speaking rate. It can also speak out words as you type them, or provide feedback on the characters that you type.
Home Button: Hate the new "press Home to open" feature? You can go back to the before times—where you'd simply rest your finger on the Home button to activate Touch ID and unlock your phone—if you'd like. Toggle on the Rest Finger to Open option. Voila! You can also adjust the click speed required with the Home button—slow it down a bit, or make it even slower.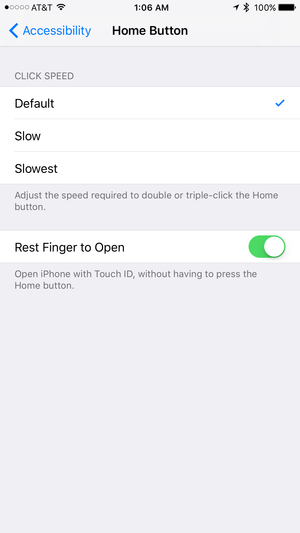 Restrictions: This is where you can restrict certain things—say, if you were giving this device to a kid and didn't want them to have Safari or be able to install new apps or make in-app purchases. Turn Restrictions on at the top, then select what you'd like to restrict. One new notable option here: You can restrict Game Center's new screen recording feature. And if you hate apps asking you if they can connect to Facebook, go to Restrictions > Facebook, and tap Don't Allow Changes.
Previous Page 1 2 3 4 5 Next Page