Settings in iOS 10: Every notable change you need to know
Once you upgrade to iOS 10, take some time to peruse the Settings app to tweak your device to your liking.
iOS's Settings app is the quiet MVP of Apple's mobile operating system: It's the place you go to when you need to get something done, and get it done your way. So whenever you update iOS on your iPhone or iPad, it pays to peruse the settings to find, enable, and configure any new features just to your liking. The biggies for iOS 10? Maps, with its plethora of new features, and Siri, since she now supports third-party app integration.
Here's a rundown of the major changes in Settings in iOS 10, as well as some key settings that didn't change, but you still might want to revisit. If you've got any questions, hit us up in the comments.
Cellular
A couple of small changes have been made in the Cellular section. To start, SIM PIN has been moved back to the Phone settings section (more on that later).
You'll also notice that your "Enable LTE" and "Roaming" options have been moved: They're now tucked away behind another option in your Cellular settings called "Cellular Data Options," where you can select if you'd like to use LTE for Voice & Data, or for Data Only. Here, you'll also find the switch to toggle off or on your Data Roaming feature.
Notifications
In iOS 9, Notifications' settings had two additional settings for how notifications would be displayed in Notification Center: You could sort the order of your notifications by showing the most recent items first, or customize them. You could also group notifications together by app.
You won't find either of these options in iOS 10—your notifications are automatically sorted in reverse chronological order, with the most recent on top. That's great for when you notice a banner just as it's going away, or when you hear your phone beep from across the room.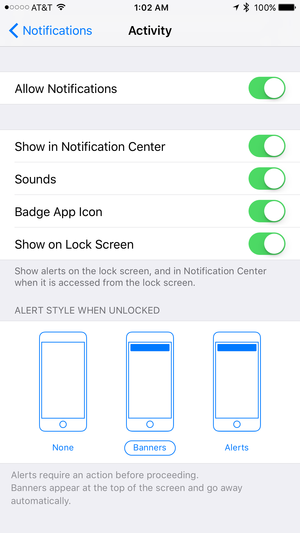 What you will find in the Notifications settings is the list of your apps that have requested notifications, in alphabetical order. That makes it easy to find the app whose notifications you want to tweak, but the controls themselves haven't changed since iOS 8. You can still decide if notifications can appear in Notification Center, on the Lock Screen, or both, and if you want to be notified in the form of vanishing banners, must-be-dismissed alerts, a badged home screen icon, or a sound. Even without much change in the Notifications settings, it's a good idea to "audit" your notifications from time to time, since they lose their impact if you have so many coming in that you start ignoring them altogether.
General
A few small changes can be found in the General section of the Settings app. (Looking for Siri? She's broken free! More on that below.)