Review: Microsoft's Surface Special Edition NFL Type Cover delivers an unofficial benefit
Made for the Surface Pro 4, it could actually be a great upgrade for Surface Pro 3 users.
The keys are tighter, the trackpad larger and overall, it's a great upgrade—for Surface Pro 3 users.
A nice upgrade for Surface Pro 3 users
I think the NFL Type Cover will appeal far more to the Surface Pro 3 user. The Surface Pro 3 and Pro 4 share the same keyboard dimensions, so the cover's fully interchangeable.
Having used the Surface Pro 3 for a year, I considered its keyboard to be the standard that other tablet keyboards should strive for. After using the NFL Type Cover, I realize the bar has been raised. With the NFL Type Cover's better key pitch, and tighter, less rattle-prone keys, I found myself making far few typos. The trackpad is larger and feels smoother, too—a big improvement.
At this point, I don't think I could ever go back to the Surface 3 Type Cover, even though a brand-new one is less than a third of the price of the NFL Type Cover.
If you go this route, just remember there's no pen loop with the NFL Type Cover because it's made for the loop-equipped Surface Pro 4, so you'll have to buy an optional pen loop for $5.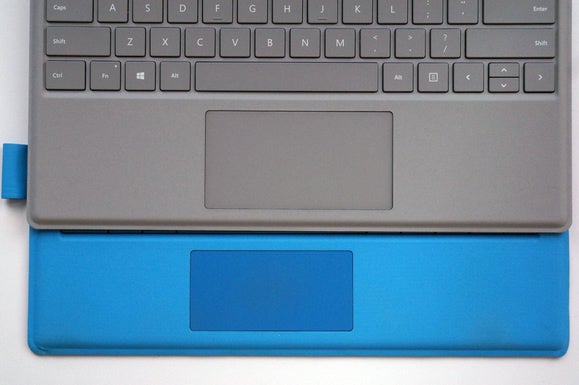 Gordon Mah Ung
The trackpad is larger, and smoother than the one on the Surface Pro 3's. I do miss that pen loop though because the Surface Pro 3 lacks the magnetic pen.
Conclusion
At $159, the NFL Special Edition Type Cover isn't cheap. To be fair, nothing that has a licensed NFL logo ever is. It's worth considering for Surface Pro 4 users who are NFL superfans, because they won't mind the cost or the lack of extra functionality (like a fingerprint reader).
For the Surface Pro 3 user though, it's something to strongly consider. By now, after a year or two of use, your Surface Pro 3 keyboard is probably as janky as mine. An upgrade to the NFL Type Cover breathes more life into the still-usable Surface Pro 3 and lets you represent at the same time.