Reality check: How Windows 10's new privacy controls stack up
A hands-on look at whether Microsoft's Win10 Creators Update will win back your trust
As you can see, the new Location setting correlates very closely with the old Location setting. The new Speech recognition setting includes some of the old Personalization setting. The new Diagnostics setting encompasses both the old "Send error and diagnostic information to Microsoft" and parts of the old Personalization settings, with some browser info thrown in for good measure. It ties in to the new Diagnostic data collection level (see the next section). And the new Relevant ads setting seems to correspond to the old "Let apps use your old advertising ID for experiences across apps."
The odd man out is the new setting marked "Tailored experiences with diagnostic data." That one raises a red flag for me because it says Microsoft can use diagnostic data to "get more relevant tips and recommendations to tailor Microsoft products and services for your needs." I guess it all depends on what you mean by "diagnostic data," but clearly Microsoft includes personally identifiable data—what one might call snooping—in its definition of "diagnostic data."
Each of these setup settings has to map onto some setting in Creators Update. Presumably most of them would go into the Windows Settings app. But given that build 15002's Settings app is almost indistinguishable from 1607's (see the first section), it's not clear how Win10 users will be able to change these setup privacy settings.
Conclusion: Major changes in the Creators Update, with no perceptible beneficial effect, as yet, on privacy.
Changes to Diagnostic data collection levels
You might have noticed that the Diagnostics setting in the setup screen is marked "Full" instead of "On." There's a reason why. Your alternative to "Full" is called "Basic"—most emphatically not "Off."
In the current Win10, version 1607, buried deep in the Privacy Settings applet, there's a setting called Diagnostic and usage data (screenshot).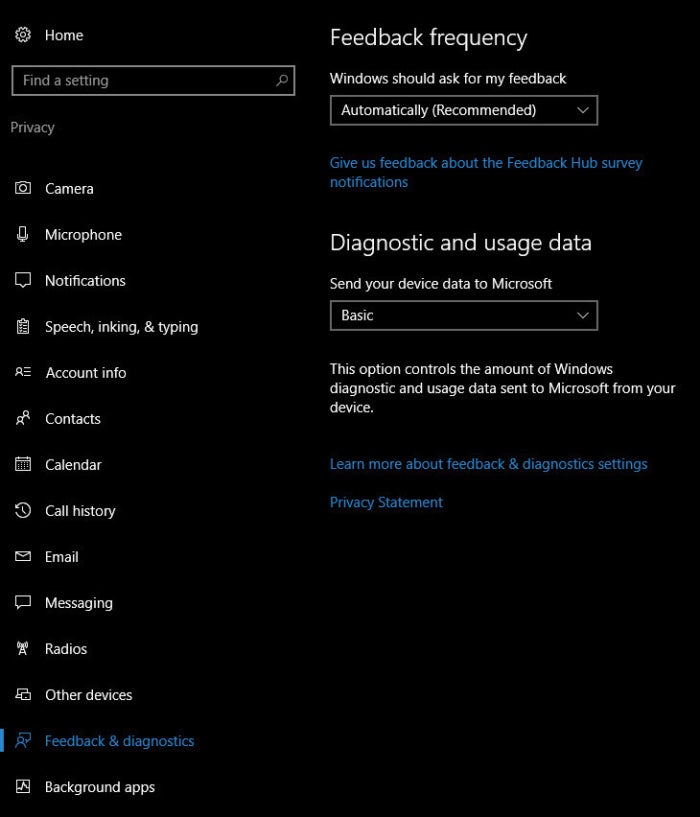 InfoWorld
You can currently choose from three settings—Basic, Enhanced, and Full (Recommended). Myerson explains that the Enhanced option is going away in Creators Update:
We've simplified our Diagnostic data collection from three levels to two: Basic and Full. If you previously selected the Enhanced level, you'll have the option to choose Basic or Full with the Creators Update. We've further reduced the data collected at the Basic level. This includes data that is vital to the operation of Windows. We use this data to help keep Windows and apps secure, up-to-date, and running properly when you let Microsoft know the capabilities of your device, what is installed, and whether Windows is operating correctly. This option also includes basic error reporting back to Microsoft.
There's a Microsoft Privacy page devoted to this setting that hasn't been updated yet to reflect the new two-level system. You can see a lot of overlap in terminology between Myerson's description of Basic and the description in that Privacy page.
Previous Page 1 2 3 4 5 Next Page