Reality check: How Windows 10's new privacy controls stack up
A hands-on look at whether Microsoft's Win10 Creators Update will win back your trust
This Privacy Dashboard entry serves as notification that Edge browsing history is stored outside of your machine, and it gives you tools to delete that browsing history. Repeated attempts to get Internet Explorer to stow its URL history on the web were unfruitful.
The Search tab on the new Account page is identical to the old Bing Search History page, with the addition of some explanatory material.
The Location tab on the Privacy Dashboard works differently from the Bing Maps page. In Bing, you can delete saved Places. In the Privacy Dashboard, you can delete your location history, over the past two weeks, three months, six months, or forever. Of course, any location history stored by one of the Windows apps is unaffected.
The Cortana's Notebook tab on the Privacy Dashboard works much like the Bing My Interests page, although the categories on the Notebook tab line up more precisely with the Cortana Notebook list.
There's also a link on the Privacy Dashboard to the Microsoft Health web page.
Conclusion: Aside from the revelation that Edge browser history is stored in Microsoft's Cloud, there are only two changes I could find with the Privacy Dashboard, neither of which is tied to the Creators Update.
The ability to delete Edge URL history that's stored in the cloud
The ability to delete recent location tracking history
That's it.
Changes to Setup
Myerson demonstrated a new privacy screen that appears when you set up Win10 Creators Update. He says:
We will introduce a new set up experience for you to choose the settings that are right for you. This experience, which replaces previous Express Settings, will look slightly different depending on the version of Windows you are using. If you are moving from Windows 7 or Windows 8, or doing a fresh install of Windows 10, the new set up experience will clearly show you simple but important settings and you will need to choose your settings before you can move forward with setup. If you are already using Windows 10, we will use notifications to prompt you to choose your privacy settings.
Nobody's seen the new screen in action, but we have a prototype (screenshot).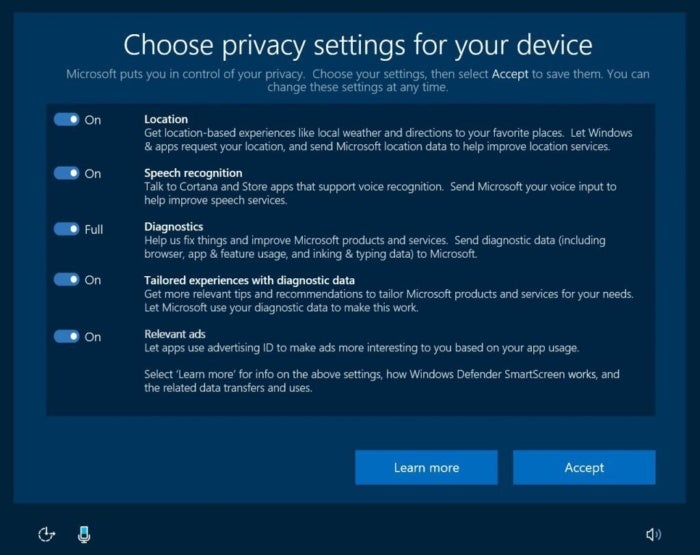 InfoWorld
This single screen replaces two screens that appear in the current Win10 version 1607 setup (screenshots).
Previous Page 1 2 3 4 5 Next Page