Reality check: How Windows 10's new privacy controls stack up
A hands-on look at whether Microsoft's Win10 Creators Update will win back your trust
Conclusion: If there's an improvement in privacy in the Creators Update, it has yet to appear in the 15002 Settings app.
The Privacy Dashboard
Windows 10 users currently have access to many websites to control how much data is collected about your Microsoft account. In some cases, these sites allow you to remove items from history or change what data will be collected in the future. The privacy review sites include the following:
I have no information about similar data collected for Local accounts and whether they're associated with IP addresses or Microsoft Advertising IDs.
In conjunction with Myerson's announcement yesterday, Microsoft completely revamped its Account page (account.microsoft.com) adding, among other items, a new tab called "Your privacy" (screenshot), which Myerson dubbed the "Privacy Dashboard." The redesigned site looks much more modern than the old Bing pages, but when it comes to the nitty-gritty details, it's a mixed bag.
It's important to note that the new Account page—the Privacy Dashboard—is not tied to the Windows 10 Creators Update. It's live, right now, and it works with existing versions of Win10.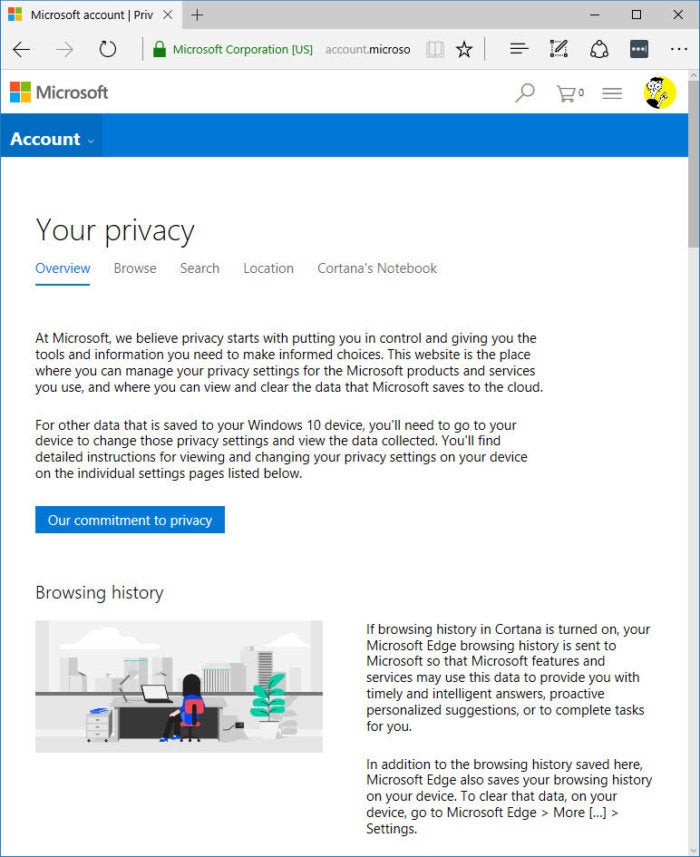 Microsoft
The Privacy Dashboard's Browse tab now explicitly states that your Edge browsing history—the list of URLs you have visited—is stored on your computer and on Microsoft's servers: "If browsing history in Cortana is turned on, your Microsoft Edge browsing history is sent to Microsoft." To find the Browsing History slider, click on the Cortana circle, choose the notebook on the upper left, then Permissions. I have no idea why the setting isn't in Edge.
Part of this Privacy Dashboard entry is old as the hills: It explains how to delete browsing history in Edge, aka the list of URLs stored on your computer. Part of it is new, though. To wipe away your browsing history, you have to clear it out of your browser and then go to this site to get the vestiges swept off the web. As best I can tell, until this week, Microsoft had never announced that it is storing Edge URL history on the internet (Google cache here).
Previous Page 1 2 3 4 5 Next Page