New call-blocking apps in iOS 10 can stop spammers and scammers before they reach you
iOS 10 allows apps to provider Caller ID labels for incoming voice calls, and automatically block callers, too.
Constantly hassled by incoming calls on your iPhone that promise riches for filling out a survey, claim the IRS will arrest you if you don't wire a payment (to Costa Rica), or say they're calling from your "credit-card company" without mentioning which one? iOS 10 packs a solution: apps can now identify callers as scammy or spammy, and optionally automatically block them.
This may be useful for you, or to help a loved one install on their phone if they can't always differentiate between legitimate callers and those aiming to defraud them.
And don't worry: Apple isn't giving developers all your incoming call information. Just like iOS 9's content-blocking Safari extensions, all the rules used to identify and optionally block fraudulent and unwanted calls have to be loaded in the app, so that iOS 10 can check against them locally, rather than letting the app send your data off who knows where. The phone numbers of incoming calls never leave your device.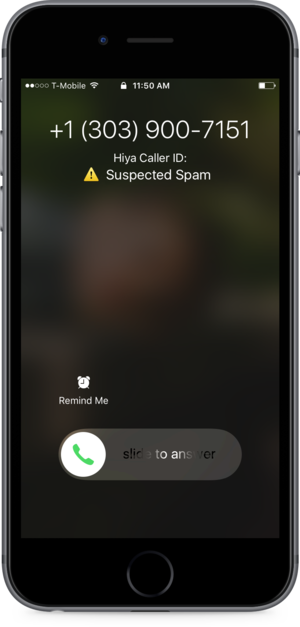 Incoming calls are identified as they happen.
These apps can also provide Caller ID lookup, offering the name of a business or person associated with a phone number, instead of a rough location, as Apple shows by default. Apps will have a variety of options and prices: Some will be entirely free, some have a one-time payment, and others require a recurring subscription. Many already appear in a more limited form in the App Store and are available on Android, where deeper call integration was already available.
With one or more apps with call-blocking or Caller ID lookup features installed, you can selectively turn them on and off via Settings > Phone > Call Blocking & Identification. Entries in your Contacts list and some other methods Apple uses to identify callers override third-party rules. But, for the most part, you should see either a warning label or a directory lookup for numbers not in your Contacts.
The free Hiya app appears first out of the gate, an update to its maker's previous iOS app and now analogous to its Android version. The company, also named Hiya, collects reports from a variety of data sources, public and private, and categorizes unwanted calls into a few types. Its technology is used by Samsung and T-Mobile, as well as available in app form.
Hiya displays a red "do not enter" style shield next to calls it identifies definitively as a "scam or fraud." It even offers the granularity of noting "IRS Scam," a fraud it sees as a rising trend, to provide a user with even more vigilance. Calls that are simply unwanted (spam) appear with a yellow yield sign and a label like "telemarketer" or "survey."